---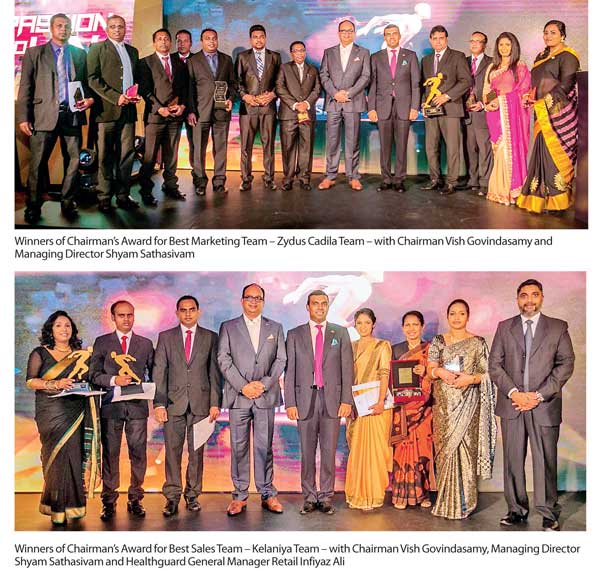 Sunshine Healthcare Lanka Ltd (SHL), the healthcare arm of diversified Sunshine Holdings PLC, paid rich tribute to the valuable contributions of its employees, by presenting them with more than 140 awards at the company's gala Sunshine Awards 2016.

At the event, the senior management of Sunshine Holdings and Sunshine Healthcare, as well some of their healthcare principals joined more than 650 employees of the company who were present in applauding the many diverse employee achievements. Over 90 Excellence Awards (which recognized significant contributions towards achieving the company's goals in 2015/16) and 24 Long-standing Service Awards were presented at the event held under the inspiring theme – 'Passion to Win.'
Supported by the committed efforts of its employees, Sunshine Healthcare recorded several important achievements in 2015/16 – including exceeding targets set for the year – which were celebrated at the Sunshine Awards held at the Hilton Colombo Residences. The Zydus Cadila, 3M Healthcare and Johnson & Johnson Medical teams of the company were recognized by their principals for their outstanding performance at the international level in 2015/16. The network of stores of Healthguard – the country's premier urban pharma, wellness and beauty retail chain – was also expanded to 24 stores during the year.

"Employee commitment is particularly essential in an industry such as healthcare – which makes a significant impact on the lives and wellbeing of thousands of people across the country," Sunshine Healthcare Lanka Managing Director Shyam Sathasivam said.

"We therefore greatly appreciate the dedication and valuable contributions of our staff. Engagements seeking to strengthen ties with employees have clearly yielded good results – as reflected in zero turnover among our sales force. We hope to build further on these achievements to become the most preferred employer in the healthcare industry."

The Chairman's Awards – the most prestigious awards presented at the event – were presented to six individuals and two teams by Sunshine Healthcare Chairman – Vish Govindasamy. The Kelaniya team clinched the Chairman's Award for the Best Sales Team while the Zydus Cadila team was recognized as the Best Marketing Team. The Chairman's Awards presented to individuals were won by – Best Manager (Sales) – Ruwan Jayasooriya, Best Manager (Marketing) – Risidath Edirisuriya and Sameera Perera, Best Sales Representative – Sasindu Anuradha and Best Medical Marketing Executive – Thevarasa Gogulan and Tharindu Darshana Dias.

The Managing Director's Awards recipients were: Best Performer (Support Services) – Nirmala Veluraj, Best Performer (Supply Chain) – Tharindu De Silva, Best Performer (Distributions) – Sarath Somasiri, Best Performer (Healthguard) – Amitha Pradeep, Best Senior Manager (Marketing) – Murugaverl Selvavinayakan, Best Senior Manager (Sales) – Joseph Santhirakasan, Best Delivery Coordinator – Arumugam Yoganathan and Best Pharmacist (Healthguard) – Amara Chandrakanthi. The 'Passion to Win' award was clinched by Sellathurai Logeswaran.

SHL, a fully-owned subsidiary of Sunshine Holdings PLC, has been involved in the healthcare business since 1967 – for nearly half a century – after commencing operations as a retail pharmacy. Today Sunshine Healthcare markets over 650 pharmaceuticals, wellness brands, medical diagnostic equipment and surgical products to all pharmacies and hospitals islandwide and accounts for a significant share of the country's private healthcare sector.