---

From left: Sanjeeva Jayaweera- Head of Education SLIM, Elangovan Karthik- Vice President- Education SLIM, Upul Adikari- President SLIM, Taslim Rahaman, -Chief Guest, Tharaka Ranwala- Guest of Honour, Prof. Jayantha Wijeyratne- Chairman BoS, G S Sylvester- Chairman ERC, Sanath Senanayake- CEO/ED SLIM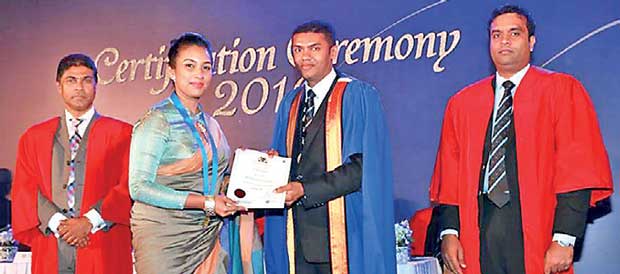 The annual Certification Ceremony of the Sri Lanka Institute of Marketing (SLIM) was held on September 11th at the Waters Edge.
The ceremony was held to recognize and award those who successfully completed the Preliminary Certificate in Marketing (PCM) and the Certificate in Pharmaceutical Marketing (PharMa).
The PCM qualification is a course especially designed for beginners in Marketing with a duration of three months of study leading to the Postgraduate Diploma in Marketing (Sri Lanka). It is an entry point for an internationally recognized professional status in Marketing. The content of PCM coupled with practical scenarios provide an individual with adequate knowledge to commence a career in Marketing or if employed, add value in the field of Sales or Marketing.
Students of the PCM intakes PCM III and PCM IV of 2015 as well as PCM I and PCM II of 2016 attended the Certification Ceremony. Medals and special certificates were awarded to the best students, first runners-up and second runners-up of the four PCM intakes in recognition of their achievements. Overall, a total of more than 1000 PCM holders qualified at the ceremony.
G T Harris, S M Attanayaka, H A D N S D Gunasekara and W A N V Jayawardane were awarded as the Best Student, 1st Runner-up and 2nd Runners-up of the PCM III 2015 respectively. The best performers of PCM IV 2015 were; Best student, H M W H Herath, 1st Runner-up, C K K Wijekoon and 2nd Runner-up, A M J H Abeysinghe.
The award for the Best Student of PCM I 2016 was awarded to A K D B Charika, while D M S Perera and P M Liyanage were the 1st and 2nd Runners-up respectively. PCM II 2016 best performers were, the Best Student, L M Lemasthota and 1st Runner-up, C D Mathangaweera, and W L G P D Gunathilaka, 2nd Runner-up.
Taslim Rahaman, Past President SLIM and Managing Director – Metropolitan PhotoHub (Pvt) Ltd and Tharaka Ranwala – Senior Deputy General Manager – Consumer Banking, Sampath Bank PLC graced the ceremony as Chief Guest and Guest of Honour.
Rahaman, in his address stressed on the initiatives taken by SLIM to improve the quality of education in the changing landscape of Sri Lanka. "I congratulate this prestigious institution for the vast advances made over the years in the vital area of Marketing Education and I must at this stage commend SLIM for the initiative taken in conducting special programs related to Marketing."
Tharaka Ranwala congratulated the participants stating, "I wish to offer my sincere congratulations to all those who received their certificates today and my wish for them is that this will only be the beginning of their journey along the learning curve of Marketing".