---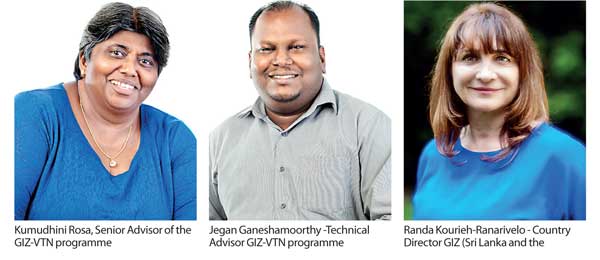 Bringing the advantages of higher education and with it, better opportunities, the Sri Lanka - German Training Institute (SLGTI) is scheduled to open in mid July 2016.

Located in Kilinochchi, this institute of excellence is expected to bring life-changing opportunities for students from across the island to further their knowledge and employability by studying through National Vocational Qualification (NVQ) Levels 4 to 6.

Sri Lanka's Ministry for Skills Development and Vocational Training and the German Government share this vision and assigned National Apprentice and Industrial Training Authority (NAITA), Kreditanstalt für Wiederaufbau (KfW) and the Deutsche Gesellschaft für Internationale Zusammenarbeit GmbH, better known as GIZ, to realize it.

The institute is presently undergoing its final stages of completion before opening its doors to 400 new students who are looking forward to an education that will fulfill their future dreams and aspirations.

Randa Kourieh-Ranarivelo - Country Director GIZ (Sri Lanka and the Maldives) has been working with GIZ Sri Lanka for the past three years. In our discussion with her she stressed that the mandate of GIZ is supporting sustainable development through peacekeeping, reconciliation and conflict transformation. "In keeping with this mandate, it is vital that the youth especially from the North and East have a chance at vocational training which will give them perspective to their lives," she says.
According to Kourieh-Ranarivelo, The "dual system" that combines practical on-the-job training with classroom instruction, prepares students for

the job market as soon as they pass out. Thus, there is close cooperation between
the private and public sector, industry
and the training centers to give these
students the opportunity for training as well as Employment.
As one of the key areas of this learning process is the On-the-Job Training (OJT) where every student is required to put in a stipulated amount of time, working with private companies to gain hands on experience.
"Yet, with the amount of students that are undergoing vocational training in all of the centers, we need much more participation from the private sector to give these students more chances for on the job training," avers Kumudhini Rosa, Senior Advisor of the GIZ-VTN programme. "We have to build more trust with this sector so that they recognize the standards and quality of the students who pass out with NVQ levels that make them technically sound and employable. Since our ultimate goal is to develop skilled personnel for these companies, we need the private sector to involve themselves in the training process and in the development of curricula, so that they set the standards for vocational training for this we work closely hand in hand with the Ministry of Skills Development, NAITA and Vocational Training Authority (VTA)."
The SLGTI will be open to women and men, from all backgrounds making this a melting pot of students from all ethnic, gender and religious backgrounds. All citizens of Sri Lanka who have completed up to NVQ level 3 (or above) in the fields of study offered are eligible to apply. Students who pass out with NVQ Level 4 are eligible to work on their own without any supervision while NVQ Level 5 and 6 are eligible to take on supervisory roles.
GIZ will take on the role of advisor, supporting the various aspects of the new institute including capacity development, support of the development of curricula as per industry needs, provision of training to the managerial staff, and trainers and technical assistance, while the German Development Bank - Kreditanstalt für Wiederaufbau (KfW), provides financial support via the construction of the institute and the supply of equipment, and machines. The institute will be under the management and administrative structure
of the National Apprentice & Industrial Training Authority (NAITA) together with a German principal.
"We have been able to provide training for the recruited NAITA staff of the SLGTI and also provided them international exposure" said Jegan Ganeshamoorthy, Technical Advisor GIZ-VTN programme.