---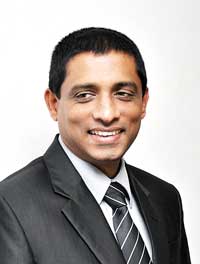 Quantum Leap Training presents its much sought after 'Sales Master Class' on 13th May at the Taj Samudra Hotel as part of its endeavors to transform sales professionals to become exceptional performers.

Conducted by Management and Marketing Consultant, Corporate Trainer, Lecturer and Life Coach Amithe Gamage, this day-long 'Sales Master Class' is aimed at making the participants improve in every aspect of sales including the most basic fundamentals that could sometimes go unnoticed. Some attributes success in sales to skills while others attribute it to attitude.

The sales master class will focus on developing the skills of the participants as well as improve their attitude towards achieving their goals and challenges.
Quantum Leap's Strategic Advisory Board comprises Amithe Gamage, Kapila Dodamgoda and Tilan Wijeyesekera.

Quantum Leap Training is powered by the best resource persons both within and outside the country from diverse fields and professions ranging from Finance, Marketing, Sales, Operations, Strategic Planning, Service delivery, HR, Value Chain etc... who are specially handpicked to deliver greater results both in public workshops and customized corporate training programs as well as consultancy projects. The ethos of Quantum Leap is to source the best resources to deliver the best possible customized solutions to its clients in order to ensure optimum performance and
greater results

"The growth of an organization would be based on many factors and one of the key measurement of the growth is always sales. The sales profession drives the growth of organizations.
Eventhough sales as a profession, boasts of a long history of development, the macro environmental factors and the competition could always make the practice difficult. Traditional forces are continuously challenging sales as a profession while technology and new types of competition have made the traditional sales strategies sometimes outdated", says
Amithe Gamage.

"Today's professional salesmen/women should be sound with the fundamental sales knowledge and latest methodologies available. A person engaged in sales should think like a business owner.
This workshop is aimed at providing essential thinking tools to think like a business owner. Setting goals for personal life to drive work life as well as some mind tools such as visualization and manifestation are elaborated to the participants to get the maximum out of their sales efforts", Gamage added. Management and Marketing Consultant, Corporate Trainer, Lecturer and Life Coach Amithe Gamage is a marketer by profession, with over 25 years of experience in Sales and Marketing, spanning across a range of industries. He has served over 15 years as a lecturer and is a senior visiting lecturer at Sri Lanka Institute of Marketing.