---
Ajinkya Pawar, the planning head of Phoenix Ogilvy Pvt (Ltd), won the prestigious WPP Atticus award 2016.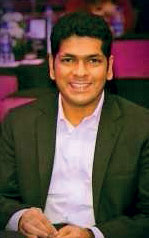 WPP Atticus Awards honour original published thinking in marketing and communications services. It is a highly coveted award among the marketing fraternity, recognised globally to honour exceptional thought leaders and strategists.

The award recognises breakthrough thinking in ten different disciplines such as Branding, Public Relations, Research Methodologies and so on. Ajinkya won in the Advertising category for his paper titled, 'The Advertising Agencies of the future will be Open Sourced'. He proposes that the global advertising companies need to radically relook at their business model to grow. He points out at the long-tail of SMEs and personal brands, that are as yet untapped by the industry. He goes on to provide the specific ways in which the business model will have to change, informed with digital interface and service innovations.

Among the ten winners, he is the only one from South Asia. The winners will meet Sir Martin Sorrell shortly to accept the award. Subsequently, the winning papers will be published, in extract form, in WPP's annual Atticus journal, which WPP makes available to clients, WPP people and press around the world.