---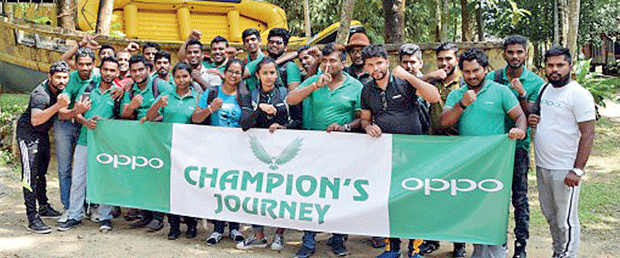 Global Smartphone brand Oppo recently initiated and carried out an appreciation and motivation campaign titled 'Champions Journey' for Oppo sales representative's islandwide held during a period of two months.

'Champions Journey', selected 172 weekly winners as well as 43 monthly winners altogether. In addition to being honoured as champions, the winners also won the rare opportunity to undergo an extensive out bound training programme on team building at the Ché Adventure Park in Kosgama, Hanwella.

"We believe in encouraging healthy competition amongst our sales representatives to enable them to excel. Out bound training has become an inherent part of corporate training and this additional reward is timely and apt for sales representatives who will be able to uncover hidden talents and refine the art of team work and striving for excellence during their training. These are values that Oppo, as a brand, endeavors to instill in all areas of our business operations. Consequently, this is a valuable opportunity to the winning sales representatives to unleash their own potential and in turn become well-equipped leaders," commented Oppo Sri Lanka Chief Executive Officer Bob Li.

Oppo Training Department conducted the outbound training programme which comprised a number of well-strategized team building programmes. Designed to instill qualities that create more effective teams in terms of enhancing productivity and service excellence, the team building exercises guided participant to acquire the necessary tools and strategies to become leaders that form well-functioning teams.

Activity list of the Team Building Exercises included an array of exciting games and activities such as Flat water rafting, Target shooting, Archery, Cable balancing and Rock trekking. Whilst all enjoyed a natural River Bath, Areal rope was one activity that excited all participants.

In conclusion of the training programmes, team members were recognized and rewarded in three separate categories. The winning members received certificates and medals for their achievements as 'Weekly Sales Champions', 'Monthly Sales Champions' and the 'Best Achiever of the Champions Journey'.

"It was great to see how the games and activities were helping individuals to think and act as one team to achieve a common goal. We could observe a transformation across all teams and we are confident that both team thinking and team performance will thrive as a result of the exposure to this outbound training," commented Oppo Sri Lanka Training Manager Sandun Manage.

A relatively new player Oppo, acknowledged as the 'Selfie Expert' and known for providing pleasurable camera phone experiences with F series F1, F1s, and their flagship models F3 and F3 Plus– the Dual Selfie Camera phone range in the mobile phone brand field in Sri Lanka. Oppo has been able to win over a loyal base of customers within a short time and has expanded in terms of physical presence throughout Sri Lanka with a network of Oppo exclusive showrooms and service centers.