---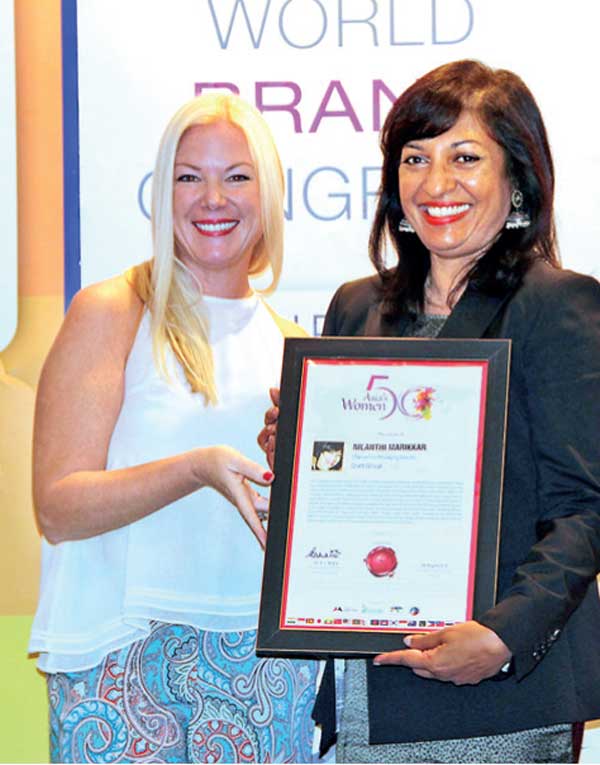 Neela Marikkar, Chairperson & Managing Director of Grant Group was recently recognized as one of the Top 50 Women Leaders in Asia, at the 7th edition of the CMO Asia Awards in Singapore on August 4th.

The Award recognizes Neela's visionary leadership at the helm of the Grant Group and her engagements with local and international organizations on leading issues including clean energy and women's empowerment in
the workplace.

Neela Marikkar has over 30 years of industry experience acquired both locally and globally. Having championed brands for both local and multi-national clients like Coca Cola, Nestle, Mastercard and Unilever she continues to inspire individuals within and outside her organization. She has also spearheaded some effective public service campaigns that address highly important social causes like reconciliation and peace building, women and child health, HIV AIDS, child nutrition, child labor and abused women.

Speaking about this achievement, Neela said, "I am indeed humbled to be named among the top 50 women leaders in Asia. This recognition encourages me to strive to do more for the industry while raising the bar for what can be achieved by women, balancing both a family and a highly demanding career."

Neela was also invited to share her extensive knowledge in a panel discussion titled "Marketing for Good". The panel discussed how marketing can be used as a tool to change hearts and minds to improve society and featured six panelists from varying industries.

Since its inception in 2001, the Chief Marketing Officer Council (CMO) is known for driving thought leadership and advocacy as a global knowledge transfer agent for thousands of senior marketing professionals globally. The CMO Council boasts over 7,000 members in more than 110 countries who control over 400 billion in annual marketing spend and represent many of the most progressive and adept multi-national brands, regional business powerhouses, and nimble emerging growth companies in both established and developing nations. The CMO council members meet regularly and provide feedback on regional and local market dynamics, as well as strategic marketing issues and priorities.