---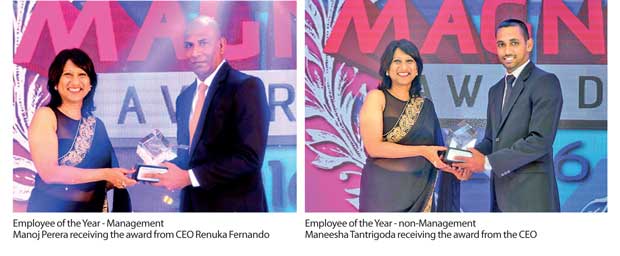 Nations Trust Bank recently held the Magnus Awards 2016 amidst glitz and glamour at The Kingsbury Hotel.
The theme of the Magnus Awards 2016 was 'Game Changer' and its purpose was to recognize and reward individuals and teams that found the courage to disrupt the established order, change the game and deliver excellence.
Eleven awards in 11 competitive categories were handed out at the ceremony, which was followed by a evening of fellowship and cocktails. Entertainment items throughout the evening kept the audience transfixed, most notably a beautiful and moving rendition of a popular song sung by the staff of Nations Trust Bank, with a 'game changing' twist. Entertainment acts by Nadro and Umaara also added flare to the evening.
Speaking at the event, Renuka Fernando, the CEO of Nations Trust Bank, said, 'Today innovation, excellence and synergy are the key drivers of success in the marketplace. The only way to foster these qualities is to create an environment in which people are unafraid to excel and actually rewarded for doing so. That is why we host the Magnus Awards. Also, nothing brings a team together quite like an evening of colour, entertainment and camaraderie. This evening has been a great success and I think we all had a great time. While I congratulate all the winners, I encourage the rest of my team to seek to aspire to the principles for which these accolades stand and to work definitively towards achieving our collective goals.'
The crème de la crème of Nations Trust Bank was present at the Magnus Awards 2016. The two most sought after awards of the night, the award for Employee of the Year 2016 in the Non-Management Category and the award for Employee of the Year 2016 in the Management Category were won by Matheesha De Silva and Manoj Perera, respectively. Awards were also handed out for Best Service Person of the Year, Most Productive Unit, Best Sales Person of the Year, Best Cost Management Unit, Most Internally/Externally Effective Campaign of the Year, Lean Implementation Award, Best Support Service Unit, Best Income Generating Unitand Most Aggressive Profit Making Unit.
Nations Trust Bank PLC is amongst the top 25 business establishments in Sri Lanka, ranked by Business Today Magazine and is the benchmark for customer convenience, ably providing a host of financial products and services to a wide range of customers.