---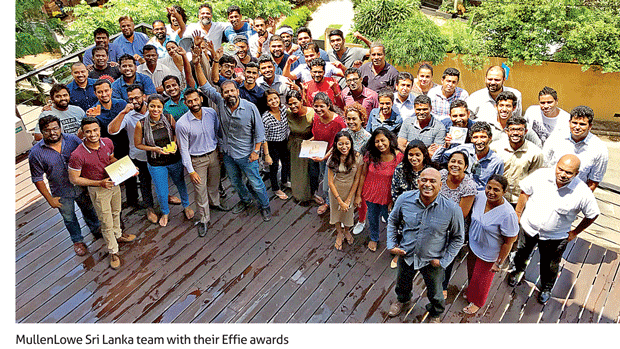 MullenLowe Sri Lanka has once again taken home the Gold award in the Foods category at the recently concluded 2016 Effie Awards for their innovative and inspired work on Marmite's 'Mealtimae Magic' campaign.

The ceremony, which was held at the Water's Edge, saw only four Gold awards being handed out on the night. The full service agency was also awarded a Bronze award in the Personal Care category for Rexona's 'A Lesson in Body Odour' and adjudged as finalists in the Home Supplies and Services category for their Surf Excel 'Raja Weda Poddo' and Vim 'Diviyata Disne' campaigns, respectively.
"Our recognition at this year's award show is a testimony of the agency's commitment to meaningful, hard working campaigns. Awards are not a result of an agency team's effort alone, but a true partnership with like-minded clients who collaborate to bring the best out of us," said MullenLowe Sri Lanka Chief Executive Officer Thayalan Bartlett. Marmite's 'Mealtime Magic' was conceived to update the brand's image for a new generation. This was done by creating 'mite' combos by giving everyday dishes a delicious twist by adding Marmite. Rexona's 'A Lesson in Body Odour' sought to tackle the under-penetration of deodorant in the country by educating the public in its necessity. This was done through a social experiment that placed people in a familiar situation and proved the need for deodorant. Surf Excel's 'Raja Weda Poddo' tried to take children away from their modern gadgets and back to the creativity of the playground by asking them to think differently. They were asked to build a toy out of waste items found around the home and Surf Excel packs and tag the photo on Facebook. Vim's 'Diviyata Disne' was born to empower homemakers, the unsung heroes of the family. Vim helped these homemakers hone their skills through workshops so they would be able to supplement their income.

"It is an honour to see our work continue to be recognized at the Effies. We are especially thrilled on bringing home a Gold Effie yet again. These awards further underscore the effectiveness of our clutter breaking, creative campaigns in engaging consumers," said MullenLowe Sri Lanka Senior Vice President/Executive Creative Director Dilshara Jayamanna.

MullenLowe had won a Gold in the 'Packaged Food' category for Marmite, a Silver in the same category for Knorr, and a Bronze in the 'Finance' category for LOLC and took home the coveted 'Most Effective Agency of the Year' title at the Effies last year. As it stands, the agency holds two of only eight Gold awards that have been awarded in the history of the Effies in Sri Lanka.

A global symbol of achievement with award programmes honouring effective marketing communications in 42 countries and six regions, the Effie Awards have been held in Sri Lanka in partnership with the Sri Lanka Institute of Marketing (SLIM) since 2008.