---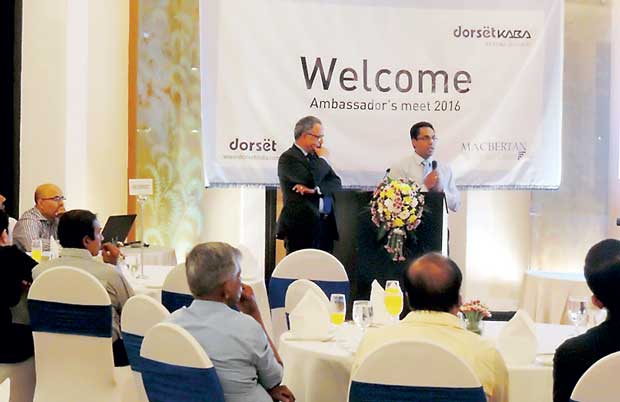 Macbertan and Dorset Kaba organized the first Brand Ambassador's meet in Colombo recently.
The event was organized for the brand's esteemed trade partners, keeping in mind their performance and loyalty. The core idea behind this initiative was to enhance the company's network and facilitate better quality products and services to its customers.
Dorset Kaba is a worldwide known brand with its Global presence in Indian Subcontinent, Middle East, South East Asia, Africa and other countries like USA,UK, Suriname, Curacao etc.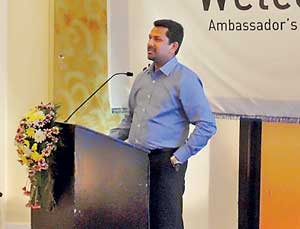 The Colombo Ambassadors Meet of Dorset Kaba concluded with the promise to enhance company's network and facilitate better quality products and services to its customers throughout. The meet was very much successful in communicating the marketing strategies of Dorset Kaba with all its Ambassadors who attended this event. Dorset KABA also launched some new and innovative products like the series of Furniture Locks and new range of designer Handles.
Atul Tripathi (VP-Sales & Marketing), Yashwant Kumar Pandey (Head– International Business), Rohan De Selva (Group Chairman - McLarens Group) Ramani Ponnambalam (Managing Director - Macbertan Pvt Ltd), Bri Ponnambalam (Director – Macbertan Pvt Ltd.), Cheminda Amarasinghe ( CEO – Macbertan Pvt Ltd.) , Uppatisa (Gen Manager – Macbertan Pvt Ltd.) and sales staff of Macbertan Pvt Ltd, were present. The event witnessed the participation of more than 60 Dorset KABA Ambassadors in Sri Lanka.
Cheminda Amarasinghe (welcomed all brand Ambassdors and explained the distribution strength of Macbertan. He also emphasized the importance of after sales service and customer delight. He was very clear that very soon service centre of door hardware will be started in Sri Lanka and Installation services of Locks and other Door Hardware will be started. He also briefed about the other operations of the group companies.
Mr. Atul Tripathi, while interacting with Ambassadors promised to offer facilities needed to enhance market share. He further added that Dorset Kaba is the fastest growing Architectural Hardware Company which reflects the continuously growing support and trust of the customers all across. He assured that the company will keep offering innovations as well as consumer-friendly value added products and services to their customers.
Commenting on the event, Yashwant Kumar Pandey said, "An event like this helps us to interact with the Ambassadors directly and understand their issues more closely. It also helps them clear out all their doubts regarding the products and helped them to update their product knowledge."
Rohan De Selva has appreciated the concept of Brand Ambassadors because it is the retail outlets who carries and develops the brands in any market.
The Ambassadors mentioned that this kind of event is great for them & makes them comfortable, as they can meet on a one-on-one basis and discuss the Ambassadors terms and conditions freely. It was an excellent relationship building exercise where many partners get an opportunity to meet together and exchange their views.
The meet ended with food and beverages being served to the participating Ambassadors. It was a memorable meet for everyone.