---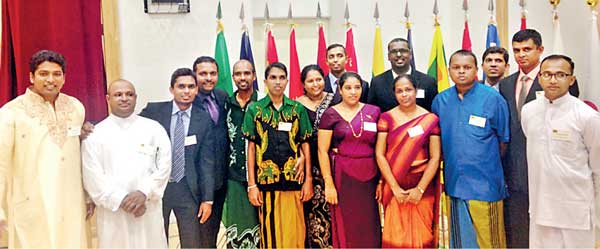 The public sector officers who received Master Degree Scholarships at reputed Japanese universities
The need for capacity building to ensure an efficient public sector and meet developmental goals is imperative particularly in countries such as Sri Lanka.

As an active partner in Sri Lanka's economic progress, the Japan International Cooperation Agency (JICA), supports the country's public sector through invaluable resource building and competency skills.

Through the Japanese Grant Aid for Human Resource Development Scholarship Programme (JDS), funded by the Government of Japan, facilitated and implemented by JICA, young, talented and capable Lankan government officials are able to follow higher education opportunities at renowned Japanese Universities.

Extending the current cooperation under the JDS scheme, the successive Grant Agreement worth 231 million Yen (approximately Rs 318 million) is expected to be signed by Kiyoshi Amada, Chief Representative JICA and Dr. R.H.S. Samarathunga, Secretary to the Treasury, Ministry of Finance on 16 June in a special ceremony at the Ministry following the signing of an Exchange of Notes between the Ambassador for Japan in Sri Lanka, K. Suganuma and Dr. R.H.S. Samarathunga.
This agreement between the Sri Lankan Government and JICA contributes further in supporting the facilitation of human resource capacity and institutional building activities in the local public sector, thereby simultaneously expanding and enhancing bilateral ties between Sri Lanka and Japan.
This year too, a joint committee under JDS together with JICA and Embassy of Japan has selected fifteen suitable Government officials and ensure their enrolment in Japanese Universities for two-year Master's Degree Scholarship Programmes in fields including Public Policy and Finance, Economics including Development Economics, Business Management, Environmental Management, Disaster Management and Climate Change.

"We believe capacity development is central to the socio-economic development of any country and these programmes are of paramount importance in JICA's continued engagement in the Sri Lankan development context. Through the JDS Scholarship scheme it is firmly believed participants will acquire expert knowledge, build professional networks and on their return take an active role in facilitating social and economic progress in the country," noted Kiyoshi Amada, Chief Representative JICA.

Since its introduction in 2009, the programme has already benefited 90 Sri Lankan Government officials with potential to play leadership roles who have followed these study programmes. It is envisaged that a total of 120 officers will receive scholarships during the co-operation period of this special programme.

Japan International Cooperation Agency (JICA) is the executing agency of Japan's Bilateral Official Development Assistance (ODA). JICA, the world biggest bilateral aid agency, works in over 150 countries and regions. In accordance with its vision of "Inclusive and Dynamic Development," JICA supports the resolution of development issues in developing countries. In Sri Lanka, Japan has been providing financial and technical assistance since 1954 and is one of the largest donors to the country. On behalf of the people of Japan, JICA contributes to improve the lives of people in Sri Lanka.