---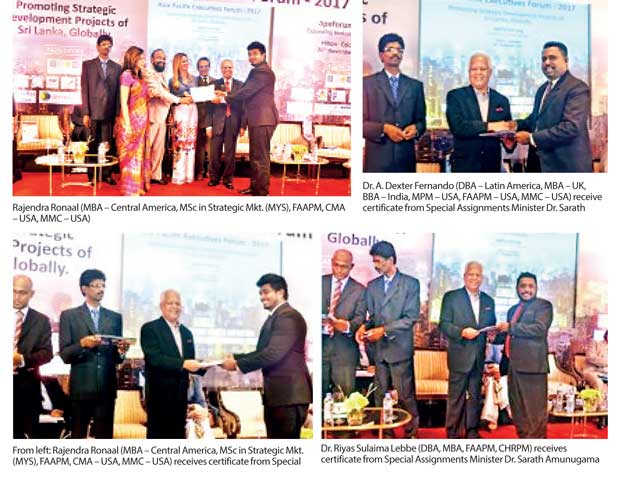 There were some outstanding performances this year at the Asia-Pacific Executive Forum 2017 and AAPM certification ceremony held at The Hilton Colombo recently.

It was a result of the hard work and dedication of the industry professionals who fully deserved their fantastic achievements.

MMC Master Management Consultant was awarded by Special Assignments Minister Dr. Sarath Amunugama representing the chief guest President Maithripala Sirisena.

The certification recipients for 2017 who successfully achieved higher scores from the series of exams were Rajendra Ronaal (MBA – Central America, MSc in Strategic Mkt. (MYS), FAAPM, CMA – USA, MMC – USA), Dr. Riyas Sulaima Lebbe (DBA, MBA, FAAPM, CHRPM) and Dr. A. Dexter Fernando (DBA – Latin America, MBA –UK, BBA – India, MPM – USA, FAAPM – USA, MMC – USA).

Special academic certificate were awarded by Professor. Daniel Khan (OBE/CEO, NISAI group UK/former Principal – St. Patrick's – UK), Iman Mutlaq (Jordanian entrepreneur and financier, Founder/CEO – Sigma Investments), Dr. Tissa Jayaweera (former President American Chamber of Commerce, Royal Commonwealth Society Sri Lanka), Rajkumar Kanagasingam (AAPM Country Representative), Dr. Dietmar Doering (German Sprots Asian Chairman) and Chandran Rutnam (film maker and entrepreneur).

The AAPM American Academy of Project Management is the global leader for graduate professionals and is an international board of standards for strategic industry professionals and executives. The Master Management Consultant (MCP/MMC) designation is offered to those who meet the highest levels of education and experience, submit client reviews and pass an executive course and exam covering the IPMC and AAPM USA's Code of Ethics.