---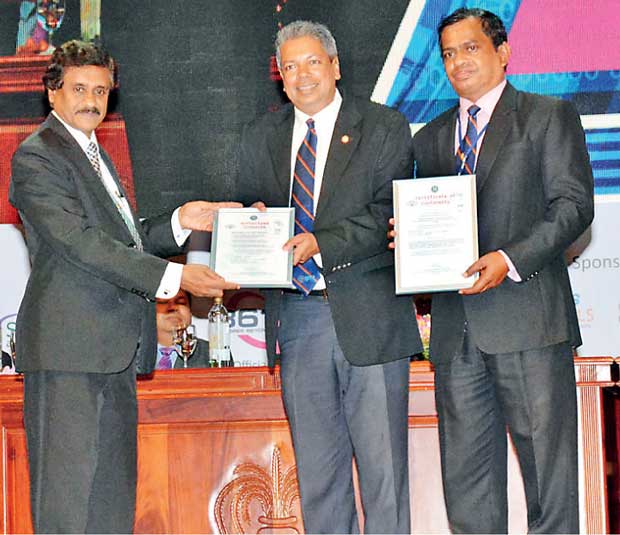 IPM Sri Lanka, the Nation's leader in HRM, was awarded the prestigious ISO 9001:2015 Quality Management System certificate covering all its operations including branch operations in Galle, Kurunegala and Kandy.
The certificate presented to IPM Sri Lanka President Ajantha Dharmasiri and IPM Sri Lanka Chief Operating Officer P. G. Tennakoon by Sri Lanka Standards Institute (SLSI) Director General Gamini Dharmawardena at the recently concluded IPM National HR Conference 2017 held at the BMICH in Colombo.
"We are delighted with the ISO quality certification that we received. It symbolizes our continuing commitment to quality across all of our operations. We are thankful to the Sri Lanka Standards Institute for the guidance, help and support extended to IPM to achieve this landmark quality certification which is a first for our industry" said Dharmasiri.
IPM Sri Lanka's ISO 9001:2015 certification for the quality management system, which is the current version of ISO 9001 released in September 2015, follows the receipt of the ISO 9001:2008 certification in 2012.
"IPM Sri Lanka recognized the need for providing consistently high quality services to our various stakeholders in order to be successful in our journey of developing globally competitive HR professionals. ISO 9001: 2015 provides us with the most current processes to provide high quality services to our students, professional members and partners, and to improve these processes on a dynamic basis according to market dynamics" said Tennakoon.
"Implementing an internationally recognized quality management system and maintaining it requires a high level of commitment, effort and dedication. I would like to take this opportunity to recognize the crucial role that was played by my team at the IPM Sri Lanka head office as well as the IPM branches/regional offices in the implementation and certification process of the ISO 2009:2015 quality management system" he added.
The ISO 9001:2015 implementation team at IPM Sri Lanka was led by IPM Sri Lanka Quality Assurance Manager Ruwani Senevirathne, who was supported by the IPM Sri Lanka family from all locations. Valuable advice and guidance for the implementation was provided by the Chief Operations Officer who is the Management Representative of ISO, Quality Management System.
"We have achieved a great milestone in becoming the first HR educational institute and professional body to receive the ISO 9001:2015 certification, confirming our commitment to uphold the highest standards of governance and transparency. This new standard brings quality and continuous improvement into the heart of our organization and ensures that quality management is integrated and aligned with our business strategies" said Senevirathne.