---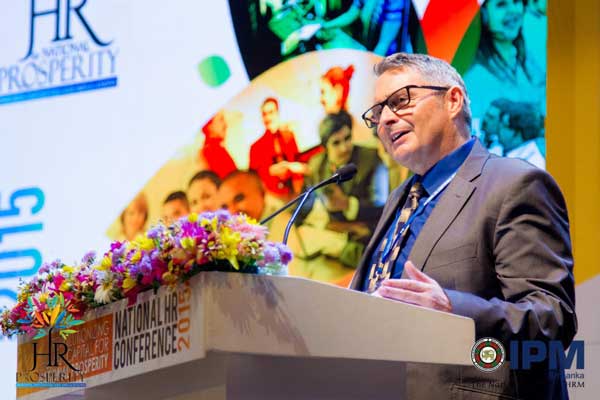 International speaker Alan Owens at NHRC 2015
IPM Sri Lanka has made arrangements to host the National Human Resources Conference (NHRC) – the largest conference in South Asia dedicated to the human resources management (HRM) sector – with an international flavour with the participation of a large contingent of international delegates, speakers and special invitees.

"It is imperative that we understand how people are managed in other competitive nations while respecting the local view point. This will help us to keenly relook at our own perspectives in order to successfully strategize and achieve a competitive regional positioning for Sri Lanka," said IPM Sri Lanka President Rohitha Amarapala.

Guest of honour, Singapore Human Resources Institute (SHRI) President Erman Tan will deliver the keynote address.

IPM Sri Lanka's flagship event – NHRC 2016 – is expected to attract over 1,000 HR professionals, managers and non-HR managers from the private as well as
public sectors.

Several delegates from India, Bangladesh, Singapore and Japan, the prominent foreign speaker line-up including Gautam Chainani-Chief Human Resources Officer, Aditya Birla Group India, Rick Cantor-Creativity Consultant, Catalyst and Speaker, Adjunct Professor of Workplace Creativity of Drexel University-USA, Rama Brahmam Aleti-Co-Founder, Director-Experience Design Think Design Collaborative (Pvt.) Ltd-India, Brian Kealey-Managing Director, Microsoft Sri Lanka and Maldives, Goh Ai Yat-former Senior Banker, Joint Managing Consultant of SBF Group of Consulting
Companies-Singapore, Prof. T.V. Rao-Chairman, TVRLS and Founder of National HRD Network-India, Dr. Suresh Marcandan-President/Director, PT People Power International-Singapore, Somesh Das Gupta, President National Institute of Personnel Management India and Kazi Rakibuddin Ahmed-Council Member, Bangladesh Society for Human Resource will bring about an international flavour to the conference.
"The key reason for including many international speakers and business leaders to share their knowledge, experience and insights on HR and other related areas at the conference is to give an opportunity to the participants to get insights into global thinking to create HR professionals with a global mindset," said IPM Sri Lanka International Affairs Committee Chairman Janaka Kumarasinghe.
Eminent Sri Lankan speakers Dian Gomes-Chairman, Hela Clothing, Prof. Ajantha Dharmasiri-Director and Chairman of the Board of Management of the Postgraduate Institute of Management, University of Sri Jayewardenepura, Nihal Ranasingh-Controller General of Immigration and Emigration Sri Lanka, B. Wijayarathne-Secretary, Agriculture Ministry and Ruki De Silva-Chairman and CEO, 361 Degree Holdings will no doubt make the proceedings of National Human Resources Conference 2016 complete.
NHRC 2016 will be followed by a post-conference breakfast meeting on 'Human Resource Management Challenges of Regional Nations' with international HR professionals on Thursday, June 23 meeting to discuss and recognize each country's macro human resource management challenges and action to handle them and to create a platform to interact with HR professionals from different countries.