---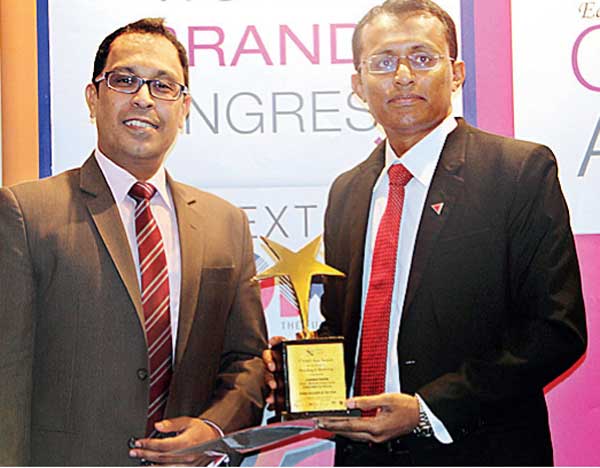 Charaka Perera receiving the award from IFC Banking Consultant Rajesh Chakrabarti
Employed at Stafford Motor Co. (Pvt.) Ltd, Director Motorcycles and Power Products Charaka Perera, walked away with the Brand Builder of the Year award at the recently concluded seventh CMO Asia Awards for Excellence in Branding and Marketing held in Singapore.

Bringing together the region's brightest marketing minds, the CMO Asia forum recognizes companies and individuals that brought about transformation and value that, over time, benefits both the buyer and service provider. The ceremony was attended by representatives from nearly 500 companies.

Charaka, who overlooks the Honda two-wheeler operation here in Sri Lanka, accounts over 19 years of sales and marketing experience across three diverse industries - automobile, construction and pharmaceuticals. But sales and marketing isn't his only stronghold; he has hands-on exposure into several functions in organisational management including logistics, distribution, after sales, channel management, finance and operations.

It was under his leadership that Honda (two-wheelers) in Sri Lanka witnessed a remarkable turnaround after its relaunch in 2012. This transformation did not occur over a fortnight. Spearheaded by Charaka, Stafford carried out various marketing campaigns and sales promotions in an attempt to revive consumer interest and this, supported by the expansion of its dealer network and infrastructure development, led to Honda's return to glory.
Subsequently, with Charaka at the helm, Honda's brand equity, image and unit sales have soared over the past few years and three decades on, they have now successfully regained leadership in the market.

Charaka's prowess on the job is only exceeded by his reputation as a marketer. A well-renowned personality among Sri Lanka's marketing fraternity he is a MCIM, a Chartered Marketer and equipped with an MBA and a Diploma in Finance Management. Furthermore, he is a Member of the Sri Lanka Institute of Directors and an Elected Board Director of the Chartered Institute of Marketing (Sri Lanka Region).