---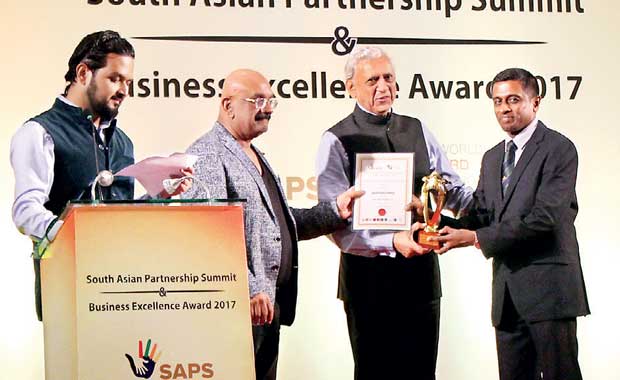 Hayleys Kelani Valley Plantations' HR and Corporate Sustainability Deputy General Manager Anuruddha Gamage receiving the award for Outstanding HR Leadership from SAPSAA 2017 Chief Guest and Chief Advisor for Bangladesh Prime Minister Dr. Gowher Rizvi
Hayleys continued to secure international recognition for its pioneering HR practices, and outstanding leadership with its management team having recently been awarded with 'The Most Innovative HR Practices' at the Asia Pacific HRM Congress Awards 2017 in the group's plantations sector and the award for 'Outstanding Women Leadership' at the South Asian Business Excellence Awards (SAPSAA) 2017.

The award for Outstanding Women Leadership was presented to Hayleys Group Services Director and Hayleys PLC Strategic Business Development Head Manohari Abeyesekera at SAPSAA 2017 at Le Meridian Dhaka Bangladesh on October 29th under the auspices of the World HRD Congress and Endorsed by Asian Confederation of Businesses.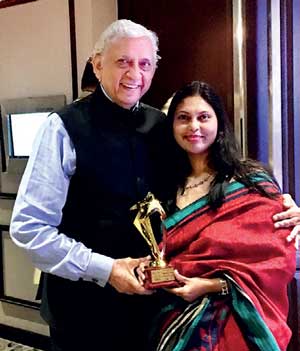 Meanwhile, Hayleys Kelani Valley Plantations' HR and Corporate Sustainability Deputy General Manager Anuruddha Gamage received the award for Outstanding HR Leadership at SAPSAA 2017.
"We take great pride in the outstanding examples being established by a new generation of women leaders at Hayleys. The efforts of Manohari serve as an inspiration to all of us at Hayleys, and for young women aspiring to take on leading roles in our group, and the Sri Lankan corporate sector as a whole. We salute her commitment and dedication, and look forward to watching her remarkable career in future.

"Similarly, we are greatly encouraged by the leading examples and industry benchmarks being set by our plantations business. Under the able guidance of Roshan Rajadurai, we have seen growing international recognition for pioneering initiatives they have established which have led to improved quality of life across the sector," a Hayleys company spokesperson said.

One of the most prestigious regional events for HR professionals; serving both as a platform for sharing for discussing pressing industry issues as well as an opportunity for showcasing the best and brightest organisations and individuals and their many notable achievements.

Commenting on the significance of this year's award, Hayleys Plantations Managing Director Roshan Rajadurai said: "It is a true honour for us at Hayleys to receive this award at such an internationally renowned forum as the South Asian Business Excellence Awards (SAPSAA) 2017. This award builds on the outstanding recognition we received in 2016, and stands as a testament to the tireless efforts of our team of employees, working hand-in-hand with regional communities to establish a culture that empowers all stakeholders." Previously, Hayleys Plantations brought home the award for 'Leading HR practices in quality work-life' at the World HRM Congress Awards 2017 while Hayleys Kelani Valley Plantations' Deputy General Manager- HR and Corporate Sustainability, Anuruddha Thiththagalla Gamage was ranked among the '100 Most Influential Global HR Professionals' in recognition of his efforts to extend comprehensive human resource management initiatives in keeping with the direct strategic vision and guidance of Rajadurai. Additionally, the company was also adjudged the Gold award winner at the National HR Excellence Awards 2016 and bagged the largest ever number of awards in its history, both in local and international competitions.

The Plantations sector employs nearly 24,000 people, and supports a further extended community of 140,000 people. Hayleys owns and manages three plantation companies, Kelani Valley Plantations (KVPL), Talawakelle Tea Estates (TTEL) and Horana Plantations PLC (HPL) and manages 60 Tea and Rubber estates, spanning over 26,750 hectares of land and account for 3.8 percent and 3.4 percent of Sri Lanka's tea and rubber production respectively.

Through concerted efforts to improve the social and economic standards of its 24,000 direct workforce and its 140,000 strong extended plantation community, Hayleys Plantations has worked to ensure that these communities are given a meaningful stake in the profitability of its plantation sector. The company has made HR initiatives the lynchpin of its strategy for raising productivity and quality of what it considers to its most valuable resource, the Hayleys Plantations team of employees.