---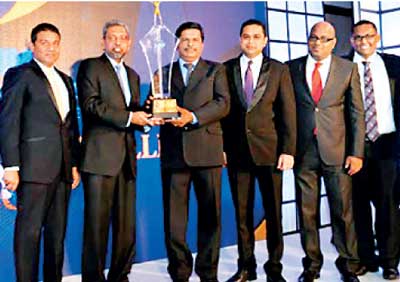 Reaching another remarkable milestone, HNB General Insurance (HNBGI) celebrated its 2ndannual Sales Convention to honour and reward the exceptional achievers of the Sales Force of the organization.

The occasion was graced by the presence of Rose Cooray, Chairperson of HNB General Insurance and HNB Assurance PLC (HNBA) as the Chief Guest and Niranjan Manickam, Acting CEO HNGI & HNBA along with other distinguished guests. This day of celebration was brightened byan elegant ambiance and the guests were dazzled by a number of dance acts.

Sharing viewson this special day, Chief Guest Rose Cooray said that "This dayhighlights the efforts of the Sales Force of HNGI, exhibiting their excellence through hard work and dedication. As an organization with tremendous growth potential, we truly admire the winning spirit of these individuals andfor surmounting hardships and going forth in developing the business with the aim of striving for excellence".

Emphasizing the importance of the Sales Force, Chandana L. Aluthgama – Chief Business Officer, HNBGI stated "The Sales Force of the organization is considered to be the fundamental force driving the business forward to achieve its goals and this day signifies thegreat lengths the team has gone to in order to build this brand. In an industry that's as competitive as ours, ultimately it's our people who would make the difference. Today we felicitate the best of the best".

A total number of 75 awards were made under the categories of Bronze, Silver, Gold and Super Gold. National awards were given to the best field executive, best assistant field manager, best branch manager, best cluster manager, best zonal manager. The top awards of the day included the best sales person award for the year and the 4 Chairman's awardsmade to the staff members recognizing their outstanding performance during the year.

HNB General Insurance (HNGI), a subsidiary of the HNB Assurance PLC (HNBA). HNBGI is one of the fastest growing Insurance Companies in Sri Lanka with a network of 53 branches.HNB General Insurance, which commenced business in January 2015, specializing in motor and non-motor insurance solutions is a fully owned subsidiary of HNB Assurance PLC. HNBA is also rated within the Top 100 Brands and Top 100 companies in Sri Lanka by LMD and HNB Assurance has won International awards for Brand Excellence, Digital Marketing and HR Excellence and also won many awards for its Annual Reports at the Award ceremonies organized by the Institute of Chartered Accountants of Sri Lanka and SAFA (South Asian Federation of Accountants).