---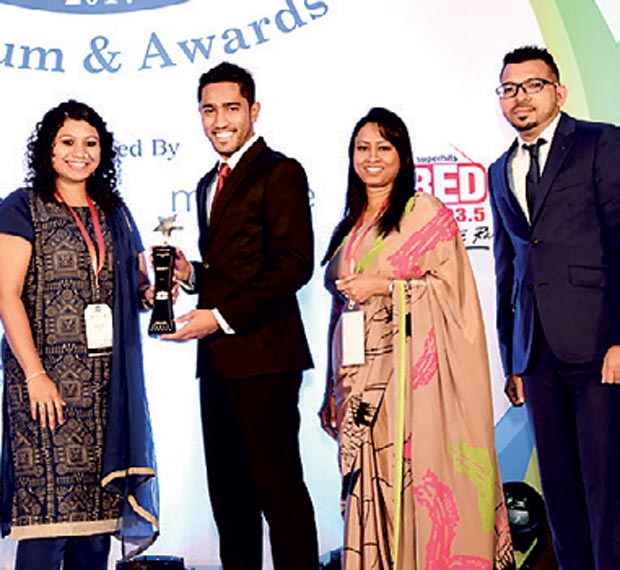 From left: GlaxoSmithKline CSR Lead Garima Dutt presents the Best Change Management Programme of the Year award to Dialog Axiata PLC People Development and Culture Transformation Assistant Manager Ajmal Hussain whilst Dialog Axiata PLC Customer Experience Transformation and People Development General Manager Rekha Weerasooriya and Dialog Axiata PLC Customer Engagement and Communication Senior Executive Afshaan Mohamed look on
Dialog Axiata's flagship service initiative, 'Service from My Heart' won two Gold awards for 'Employee Engagement Programme of the Year' and 'Best Change Management Programme of the Year' at the Asian Customer Engagement Forum - HR and CSR Awards held in Mumbai, India.

The awards witnessed over 600 entries, and represented 200 companies across the Asia Pacific Region.

'Service from My Heart', Dialog's key value and premise for service, was launched in 2014 with the intention of instilling service delivery and excellence across all Dialog employees. The value encompasses customer experience, team work, passion, upholding a positive attitude and is derived from the premier connectivity provider's penchant to deliver service excellence to stakeholders.
The campaign has created a significant impact in transforming internal work culture through cohesive team work, increased motivation levels of staff and stimulating trust. Other key quantitative measures include process improvements resulting in cost and time savings, an increase in engagement scores seen in surveys carried out by independent bodies and increased empowerment levels for staff resulting in customer delight.

The Asian Customer Engagement Forum (ASEF), organized by a team of professionals from India, UAE and Sri Lanka, is guided by advisory members from branding, marketing and creative agencies based in India, US, Australia, Singapore, UAE and Sri Lanka. The forum is hosted annually to identify key regional players across HR and CSR spheres.

Dialog Group Chief Customer Officer Sandra De Zoysa stated: "The awards were presented at a fitting and momentous time as we celebrate International Customer Week 2017 and we are humbled and honored that our efforts to serve our valuable customers with passion and sincerity has received external validation and international recognition as it is a testimony to the relentless pursuit and good work of our employees who live the Dialog values every day, including 'Service from My Heart'. As always we are ever so grateful to our loyal customers for placing their confidence and trust in Dialog and giving us the opportunity to serve them."