---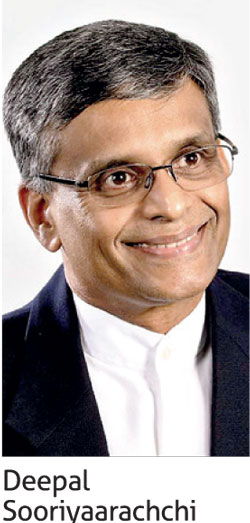 On August 13, famed management development consultant, Deepal Sooriyaarachchi will introduce his latest programme called
'Success Siksha'.

The programme, which has been specially created for Managing Directors and CEOs of mid-sized companies, will be held at the Hotel Galadari. Organized by Inspire One and supported by the Ceylon Chamber of Commerce, the Federation of Chambers and the Sri Lanka Printers' Association, the workshop will provide a unique opportunity for its participants to revisit, review and reflect upon their business strategies, methodology, the means by which to inspire employees to follow the set plan and how to manage their busy lives, under the guidance of Sooriyaarachchi.

"Over the last few years following my retirement from full-time work, I have been working with a large cross section of medium and large business enterprises, and especially with MDs and company owners. Currently they struggle to convert their business from being informal to formal, from person dependent to process dependent, without loosing the entrepreneurial spirit of the enterprise. I conceptualized this programme taking in to account these specific challenges", stated Sooriyaarachchi.

Success Siksha, is structured upon four themes – Strategy, Execution, People and Self, and is made up of rich content made up of local as well as international examples and insights. Sooriyaarachchi will also use case studies and interactive activities in order to make the programme more interesting and memorable. Before the workshop on the 13th, Sooriyaarachchi plans to offer a leadership programme for the same audience based on the concept of the Leadership Code expounded by the RBL Group. The participants will also be able to avail themselves of the opportunity to be mentored by Sooriyaarachchi.

Having conducted management and people development programs in eleven countries across five continents, Sooriyaarachchi serves as a consulting partner of Results Based Leadership Organization of USA, which is known for conducting cutting edge leadership development programmes across the globe. He takes a keen interest in blending Asian wisdom with modern day management practices and plays a leading role in introducing practices such as mindfulness to business executives. Sooriyaarachchi has pioneered the promotion of management concepts in Sinhalese, especially by way of his book series, 'Sinhalen Business' and has also authored fifteen books that have been published in Sri Lanka and overseas.