---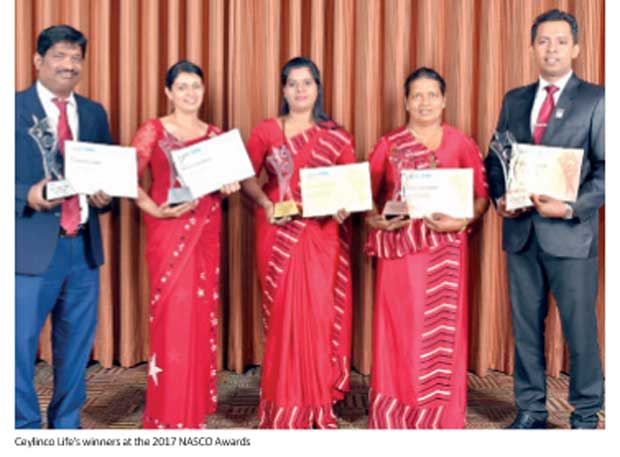 Ceylinco Life has once again emerged with flying colours in salesmanship, with five of the company's sales personnel winning awards at the 2017 National Sales Congress (NASCO) Awards presented by the Sri Lanka Institute of Marketing (SLIM).

The haul of awards won by Sri Lanka's market-leading life insurer included two awards in the 'Frontliner' categoryand awards in the Sales Executive category and Territory Manager category, all in the life insurance sector.

The winners from Ceylinco Life at this year's awards were N. L. Fernando who won the Gold award in the 'Frontliner' category in the Life Insurance sector; K. S. Priyanthi who won the Silver award in the same category; T. C. G. Rajapaksha who won the Bronze award in the Sales Executive Category in the Life Insurance sector; S. Dharshan who won the Silver award in the Territory Manager Category in the Life Insurance sector and R. A. D. U. Kumara who won the Bronze award in the same category.
Ceylinco Life's Managing Director R. Renganathan was the chief guest at the 2017 awards ceremony. In his address he emphasised the importance of identifying customers and selling strategically. "At Ceylinco Life, for example, we place great emphasis on the importance of a needs analysis before we develop a policy proposal for a customer, because we know that a business relationship can only be sustained if the product satisfies the needs of the customer," Renganathan said.

Ceylinco Life has been taking part in the NASCO Awards since 2011, has produced 16 overall winners from Colombo, Ambalantota, Bandarawela, Kalutara, Matara, Negombo, Embilipitiya and Moratuwa;and amassed a total of 21 awards across all categories. The company was also the winner of the award for the Most Outstanding Female Sales Person of the Year in 2015 and 2016.

The premier event that recognises sales excellence and rewards and motivates sales professionals to achieve greater heights, NASCO presents Gold, Silver and Bronze medals for the best front liners, sales executives and territory managers in sectors such as FMCG (Food, Beverage, Cosmetics and Household) financial products and services, insurance, automotive, corporate selling,
telecommunication, travel and leisure, fashion and clothing, consumer durables, alcohol and tobacco, industrial, healthcare, IT, media, and modern retail.