---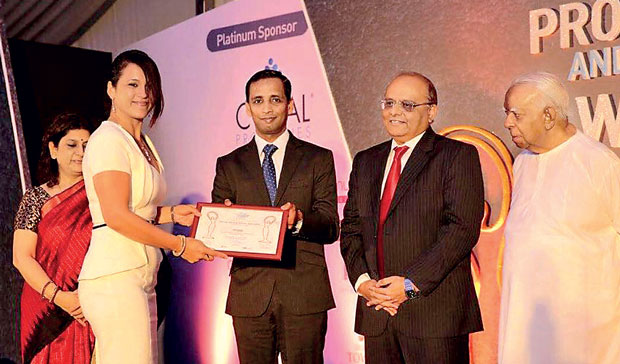 Catriona Jayasundera receiving her award
Colombo International Container Terminals Ltd. (CICT) Marketing and Commercial Head Catriona Jayasundera has been recognised for her achievements in the field of logistics at the 'Top 50 Professional and Career Women Awards – Sri Lanka'.

The event was presented by Women in Management (WIM) in partnership with International Finance Corporation (IFC) - a member of the World Bank Group.

Jayasundera won the Silver Award for 'Leadership Excellence in Logistics' at this prestigious event celebrating the contributions of women in multiple fields of endeavour. It was themed 'Beyond Parity – Developing Tomorrow's Leaders.'

In its seventh edition, the 'Top 50 Professional and Career Women Awards' recognised influential women in the national and regional economy and their achievements, experience and creativity in leading their institutions, professions and businesses in an efficient and effective manner. The awards presentation was graced by the opposition leader, ministers, members of parliament, diplomats, professionals in businesses and the public service and women leaders from various industries.
The judging criteria for these awards included: Individual contribution to company; Leadership on Innovation; Private-Partnership driver; Impact to Society; and Role model for youngsters. All contenders underwent three rounds of evaluation before the winners were selected.

Congratulating Jayasundera on her award, CICT CEO Ray Ren said: "Catriona had the courage and determination to enter a male dominated industry more than 15 years ago and has devoted much of her career to this industry and been a mentor for many people in the field."

Catriona Jayasundera's professional career spans 15 years in the Ports and Terminals industry. She was the first female in her capacity in the Port of Colombo and is now the first female in the Port to reach senior management level.