---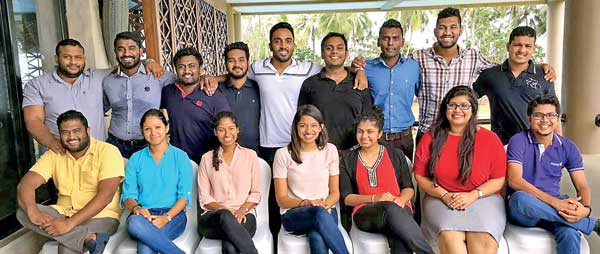 As part of their continued efforts to groom employees in leadership roles andimpart knowledge on diverse areas of business, Ceylon Tobacco Company (CTC) PLC, recently concluded the Leadership Acceleration Programme (LeAP).

Focusing primarily on self-development and self-leadership, LeAP is part of the company's leadership training curriculum which aims to strengtheninterpersonal communication and influencing skills while valuing differences of employees within the organization.

The event saw the active participation of 17 employees from the Marketing, Operations and Finance functions within the company. The 3-day residential training programme is the stepping stone to the comprehensive leadership training curriculum that CTC practices covering all its employees. The programme was tailor-made to cater to the soft-skill development of employees that
would help in enhancing their leadership capabilities.

Accordingly, the sessions focused on assertive skills, art of networking, people management and making yourself heard and your opinion count.Participants were exposed to knowledge sharing, success stories and experiential sessions with senior managers who also shared their candid views and experiences of what it means to be a young leader at CTC.

The experiential sessions saw senior managers who had joined CTC as management trainees, entrée level and mid-career recruits giving participants useful insights on letting go of older perspectives and adapting oneself to the changing dynamics of the corporate world.
"At CTC we continue to innovate avenues through which we can effectivelyhelp our people to grow and to groom them to become the next generation of leaders in the Company. LeAP is yet another training platform that is designed to develop employees to perceive challenges as opportunities and to learn and evolve professionally. I am confident that this programme will produce results that strengthen our position as a commercial enterprise dependent on its exceptional and winning team," said CTC's Head of Human Resources, Aruna Dissanayake.

All training programmes conducted by the company encourages participating employees to operationalize their learnings upon returning to their respective roles. LeAP too gave its participants the opportunity to formulate a comprehensiveprint and digital campaign based on the company's employer philosophy 'Bring Your Difference' which would be used to promote the aspects of a young CTC leader, both internally and externally. Accordingly, participants are expected to implement their recommendations within the company, embracing a component of CTC's learning philosophy – "learning from others".

Akila Jayasena, Trade Marketing Executive who participated at the programme said, "CTC provides us with multiple training opportunities that have helped develop our capabilities in terms of adapting to job requirements within our existing roles or with those needed to advance within the company. LeAP was an insightful training programme that gave us an opportunity to learn how to be an inspirational leader and I am indeed grateful for this opportunity."
CTC will continue to provide opportunities for all their employees to become global professionals with the capability to work in diverse contexts and cultures.