---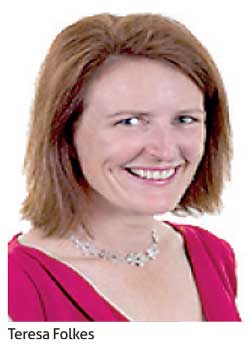 The Chartered Institute of Marketing (CIM) appointed Teresa Folkes as the CIM
representativetotheBoard of CIM Sri Lanka on the 09 October 2017.

She takes over the role previously performed by Chris Daly who has stepped down from the Board of CIM Sri Lanka and continues as Chief Executive of CIM.

Teresa has been on the Senior Management Team of CIM for over two years and reports directly into the Chief Executive. She is responsible for CIM's Professional Development programmes, Knowledge Services and International Strategy. Most recently, Teresa has been working with the Board to develop the CIM Strategy plan and improve our monitoring and performance management processes.
Discussing the announcement Teresa said: "I am very much looking forward to taking on the role. Sri Lanka isa key region for the Chartered Institute of Marketing, and for over 12 years we have worked together to support marketers in the region. The country is still the largest international region for CIM, serving over 2,145 members. By working together, I am confident we can help drive Sri Lanka's business landscape by empowering members to harness marketing knowledge and demonstrate world class competencies."

Prior to working at CIM, Teresa held Executive Director roles at a Prince of Wales Charity (PRIME); leading on strategic business planning and budgeting, service delivery and ensuring assessment standards were achieved for their Membership, Personnel and Training certification and Education portfolios. Before that, Teresa was at the Chartered Quality Institute (CQI), where her role involved leading and facilitating the international delivery network, which included an office in Japan and international channel partners in Asia and the Americas.

For more than 100 years, CIM has supported, represented and developed marketers, teams, leaders and the profession as a whole. There are 130 CIM study centres in 36 countries and exam centres in 132 countries worldwide. In the last year, over 7,500 people registered at over 230 UK CIM events.
As the world's leading professional marketing body, CIM's mission is to create marketing advantage for the benefit of professionals, business and society with a focus on export, data and skills. It believes marketing is the critical factor in driving long term organisational performance.

CIM Sri Lanka is the first international branch of CIM comprising the largest number of members, both professional and students of CIM outside the UK. The regional institute has always campaigned for greater recognition and excellence in the marketing profession in Sri Lanka, through education, training and professional development.