---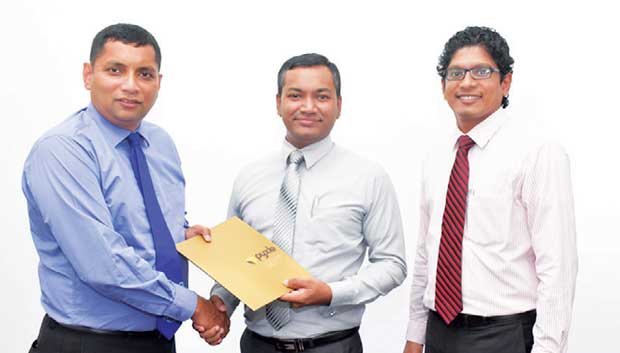 Sanjika Perera, Chairman CIM Sri Lanka, Oshada Senanayake, COO/Director Pyxle (Pvt) Ltd, SanjeewPerera, Manager Business Development Pyxle (Pvt) Limited.
The Chartered Institute of Marketing Sri Lanka entered into a strategic partnership with Pyxle (Pvt) Ltd. who was also the Digital Media partner for the flagship event of the institute's annual calendar, CIM Sri Lanka Annual Conference, held on 28th and 29th June 2016.
The partnership between CIM Sri Lanka and Pyxle (Pvt) Ltd will mutually benefit both organisations in terms of strengthening respective brand identities in the market. Commenting on the partnership, SanjikaPerera, Chairman of CIM Sri Lanka said, "We are proud to partner with Pyxle (Pvt) Ltdas one of our event sponsors and are grateful to their continued support to promote CIM and its activities in Sri Lanka. Pyxle has competently synergised real-time digital marketing strategies with our objectives to attract marketing enthusiasts for optimising their know-how in these diverse business areas."
CIM Sri Lanka is the first international branch of CIM UK and is proud to claim the largest membership outside the UK. Celebrating its 20th anniversary, CIM Sri Lanka has always campaigned for high professional standards, greater recognition for the profession and marketing excellence in Sri Lanka through education, training and development.
Oshada Senanayake, COO/Director at Pyxle (Pvt) Ltd remarked, "We are delighted to sponsor a renowned professional body such as The Chartered Institute of Marketing Sri Lanka as it will be a great opportunity to work together with the largest professional body and we hope to produce intuitive social interfaces that potently articulate every event's mission for setting and developing the standards of marketing in Sri Lanka."
Based in Sri Lanka and consisting of a global presence in Canada, Sweden and Malaysia, Pyxle has been contributing towards creating diverse web landscapes for numerous blue-chip organisations since 2003. Pyxle offers a wide range of Search engine optimization & internet marketing service's to improve the performance and visibility of any website. Their skill lies in recognizing the factors that lead to improved search engine rankings and internet traffic; and being able to act upon them.