---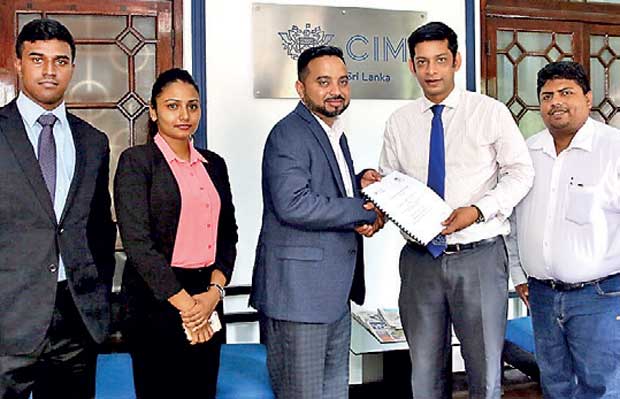 From left: Jordan Noah - Marketing Consultant, Montrela Consultants (Pvt) Ltd,Rushini Ferdinando - Business Development Manager, Montrela Consultants (Pvt) Ltd,Yusri Abdullah - Managing Director, Montrela Consultants (Pvt) Ltd, Brian Selvanayagam, Chairman- CIM Sri Lanka, Sanjay Hettiarachchi, Manager, Membership Development - CIM Sri Lanka
The Chartered Institute of Marketing Sri Lanka entered into a strategic partnership of mutual respect and benefit with Montrela Consultants (Pvt) Ltd, a leading international migration consultancy.
Commenting on the successful partnership, Brian Selvanayagam, Chairman of CIM Sri Lanka said, "It is a pleasure to partner with Montrela Consultants (Pvt) Ltd and grateful to their continued support to help promote CIM and its activities in Sri Lanka".
CIM Sri Lanka is the first International branch of CIM UK and is proud to claim the largest membership outside the UK. CIM Sri Lanka has always campaigned for high professional standards, greater recognition for the profession and marketing excellence in Sri Lanka through education, training and development.
Asked about his views, Yusri Abdullah Mohamed, "We are delighted to sponsor a renowned professional body such as the Chartered Institute of Marketing Sri Lanka as it will be a great opportunity to work together with the largest professional body for Marketing in order to further strengthen our valuable customer network."
Montrela is an international migration consultancy, headquartered in Dubai which was formed to provide one stop visa solutions to people throughout the world who wishes to migrate and settle for better Living standard.
At Montrela, they offer professional, efficient immigration and relocation services by providing hassle free solutions. They have teamed up with licensed consultants from various government immigration authorities and are one-stop center for potential skilledimmigrants to the Canada, US, Australia, New Zealand and some European Schengen regions at highly competitive and affordable prices.
Any profession can apply for Canada, especially marketing as it is one of the highly demanded professions and there is a greater demand for senior marketing heads and associate professionals in the Canadian region. Through the provincial nominations, Montrela Consultants are able to assist their clients in obtaining permanent residency even if you fall short of required points for the permanent residency.