---
In a gesture that highlights its meteoric rise to the top, Atlas was recently ranked at No 04 in Sri Lanka's most valuable brands ,under the unlisted category, just three slots behind three global brands, in Brand Finance's 2016 ranking of the country's leading brands - a special edition of the LMD magazine.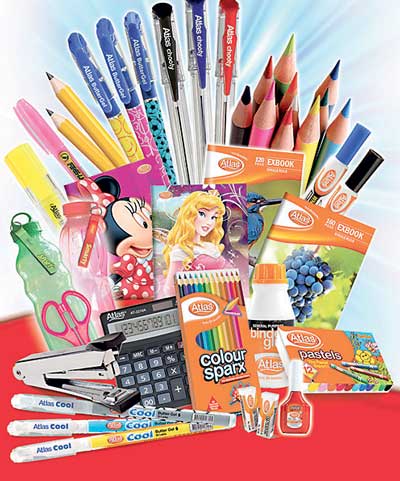 "Atlas is proud to wear the laurels as a totally Sri Lankan owned and managed brand with an equally proud heritage in the country", says Nirmal Madanayake, M.D of Ceylon Pencil Co.
Representing the second generation to manage the company which recently celebrated a strong presence of over fifty years in the market, Nirmal Madanayake says that the Company owes its success to design superiority, consistent level of world class quality, a formidable market presence and a strong professional team that has seen the brand grow from success to success, to reach global standards.
" Our product offering is both consumer focused and relevant to consumer needs" he reiterates, " We have developed a comprehensive range of products that meet the needs of 21st century customers who are attuned to global trends and understand the importance and value of design and demand the highest of quality every day."
Atlas as a brand is committed to fulfilling a strategic role in the market, says Hamza Muhammed, CEO of Ceylon Pencil Company. Being the leader in School and Office Stationary, Atlas is proud to partner and provide tools for success to over 4 million school children across the country, not to mention the working populous of this nation. Our range of products is affordable and we have by far the widest reach enabling a wide cross section of people to use and be delighted with our products. Quality is synonymous with Atlas products and many processes have been introduced to ensure both first time quality and sustained continuous quality of our range of products.
In the past year many initiatives have been undertaken to differentiate the brand on design. "At Atlas, Consumer insight led Innovation with design at the heart of all we do, and consistent Quality are 2 aspects that we don't take short cuts on" says Ramani Samarasundera, Director – Marketing. From Design through to deployment much effort is taken to be relevant to their lifestyle and provide a good start to each day, to each week and each year, as children pursue their dreams and ambitions to succeed in life.
In the past year the Atlas brand has also increased its footprint in engaging with communities and families through BTL activations, being part of key festivals in the country, through engagement with children and adults across the country, and also through media led events. The brand has also embarked on many partnerships with the private sector, other institutes, teachers and schools to further strengthen bonds with the community.