---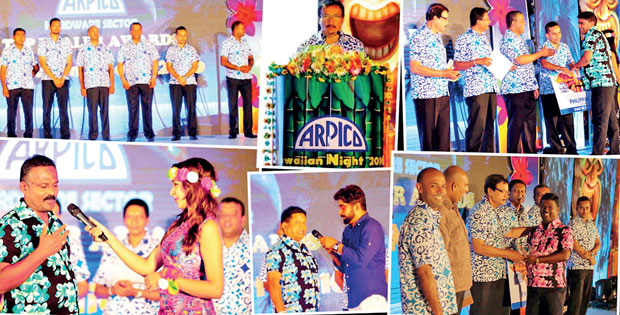 Renowned among Sri Lanka's largest business conglomerates, Arpico recently hosted its top dealers for a gala event that celebrated yet another outstanding year of sales and collections.
Held at Amaaya Beach, Passikuda, featuring enjoyable cuisine and music, over 150 top hardware dealers who cater to Arpico customers across the island participated in this event together with the company's top management, members of the sales and marketing teams and other departments.
The event felicitated top-performing dealers for their exceptional performance in selling Arpico hardware products over the past year, in addition to building and sustaining successful relationships with the company. Arpico further demonstrated its deep-rooted appreciation for the dealer contribution towards increased revenue despite strong industry competition alongside an expanding local construction industry.
Richard Pieris & Company LMD Sector Managing Director Sunil Liyanage further acknowledged the company's strong commitment to quality.
"Through the years, Arpico has continued to exceed customer expectations in terms of product quality, durability and delivery. Our guaranteed quality has benchmarked products and supported our stance as the preferred supplier of hardware to construction companies islandwide. I therefore extend my heartiest thanks to the entire team who has worked hard to strengthen this brand promise," he said.
Furthermore, the company envisioned that its diverse hardware portfolio, encompassing of state-of-the-art Arpico water tanks, Arpico regiform, Arpico rubber and Arpico PVC will effectively cater to the dynamics of the growing local construction industry. Further elaborating on these prospects, Richard Pieris & Company LMD Sector Director Distribution Shantha Kularatna noted, "The local construction industry has witnessed exponential growth this past year and I have no doubt that it will continue to grow. This growth momentum is a fantastic opportunity for us to further expand our quality products and service offerings to customers across the island. These dynamics are indeed exciting and we look forward to a continued team effort to make the most of it." Commenting on Arpico dealer network's formidable performance, Richard Pieris & Company Head of Sales Duminda Perera noted, "Our dealer network plays a vital role in taking our top-quality products to a large customer base across the island. It is not without their valuable support that we could have achieved such strong growth over the past year. I therefore applaud their wonderful efforts and hard work and look forward to their continued and passionate contribution in the years to come."
Richard Pieris & Company LMD Sector Head of Marketing Derrick Perera further acknowledged that a continued positive sales performance combined with effective strategies in marketing and customer engagement will undoubtedly amplify the company's reach to target customers in regions throughout the country.
Finally, Richard Pieris & Company Head of Category Hardware Sector Dilshan Abeysekara stated, "The country has been subject to several positive changes in the construction industry and per capita gross domestic product (GDP). Quality housing is therefore of paramount importance and is an opportunity that we intend to capitalize on in the future."
Arpico will continue to engage with their dealer network and is confident that their insights and contributions will remain an integral component in helping the company fine tune their product range and drive overall growth and expansion.