---
They may hold onto the headquarters and elephant symbol but a majority of UNP members are in our camp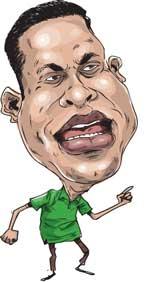 By Yohan Perera
Those who claim to be UNPers but latch onto Sirikotha and the elephant symbol do not have people like the Samagi Jana Balawegaya (SJB) does, its election campaign chief Harin Fernando said yesterday.
"They may hold onto the headquarters and elephant symbol but a majority of UNP members are in our camp. We will clean up the UNP after the election. We are the real UNPers," he told a press conference held last noon.
Meanwhile, former MP Harshana Rajakaruna who also attended the press conference said the UNP would suffer the same fate SLFP did following the general election in 2018. "People witnessed the number of votes the SLFP and SLPP garnered at the local government election in 2018. The UNP will suffer the same fate as the SLFP in this year's general election," he said.

Both Mr. Fernando and Mr. Rajakaruna alleged that the grassroots members of the UNP were subject to undue influence by party higher-ups asking them not to join the SJB.
The UNP will suffer the same fate as the SLFP in this year's general election