---
He was arrested and handed over to the CID
Several police personnel were arrested in this connection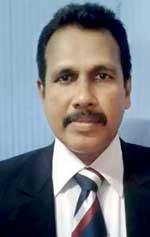 By Darshana Sanjeewa Balasuriya
Police Narcotic Bureau (PNB) Inspector W.K. Saman Wasantha Kumara, who was wanted by the CID in connection with drug trafficking, was arrested a few hours ago after the police released the suspect's picture to the media seeking public assistance to locate him.
He said reports of some of the inmates were yet to come. Nearly 174 inmates out of 250 identified as having come in contact with the COVID-19 patient detected at the Welikada Prison were subjected to PCR tests, Prison Spokesman Chandana Ekanayake said.
He said they were those detained at Ward-I of the Welikada Prison where the COVID-19 infected inmate was found.
Mr. Ekanayake said the PCR tests on the rest of the personnel who were prisons officers would be carried out later. "If possible, we will conduct the PCR tests on Tuesday or Wednesday," he said adding that no visitors would be allowed to the Welikada Prison until further notice.

Meanwhile, Director General of Health Services, Dr. Anil Jasinghe said the prison inmate, a drug addict had been in rehabilitation at the Kandakadu rehabilitation centre before he was transferred to Welikada prison on June 27.
He said with the detection of this new COVID-19 patient at the Welikada Prison, the Prevention Task Force has decided to carry out rigid surveillance and testing and quarantine programmes targeting all prison inmates and officers to prevent the spread of the viral infection.

"The Health authorities have also decided to subject 474 inmates and 131 officials at the Kandakadu rehabilitation centre to a period of quarantine", Dr. Jasinghe said.
He said the health officials had no option but to quarantine the officials and inmates of the Polonnaruwa prison because the infected prisoner had been transferred to the Welikada Prison by officials of the Polonnaruwa prison.