---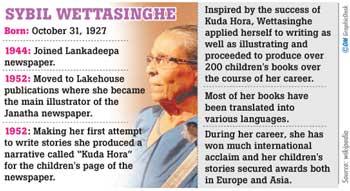 By Sheain Fernandopulle
Veteran children's book writer and illustrator Kala Keerthi Sybil Wettasinghe passed away at the age of 93 while receiving treatment at the Intensive Care Unit (ICU) of the Sri Jayewardenepura Hospital last morning, family sources said.
The Umbrella Thief, The Child in Me, Sooththara Puncha, Akeekaru Bakamunu Paetawa, Kusumalatha, An Elephant in the sky, A Dress for the Cat - Forever Friends and How the Devil Ran Away are some of the books written by Wettasinghe.

Her books have been translated into several languages, such as English,Tamil, Japanese, Chinese, Swedish, Norwegian and Danish,

Wettasinghe has produced over 200 children's books during the course of her career. She has also won much international acclaim and her books have secured awards both in Europe and Asia as well.

The book "Wonder Crystal" authored by Wettasinghe recently set a new Guinness World Record for the most number of alternate endings. This book was written with NO ENDINGS and then completed with the children of Sri Lanka. "Wonder Crystal" is the only children's book in the world with 1,250 completed alternative endings.
The body is lying at her residence at Gangodawila, Nugegoda and the final rites will be held on Friday at 3.00 pm at the Borella General Cemetery.
She produced over 200 children's books during her illustrIOUS career