---
Envoy echoes concerns on Task Force

US will not put alternative to China's BRI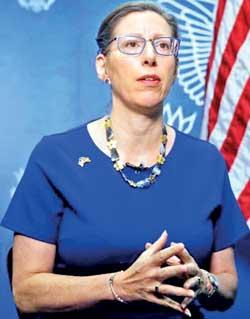 By Easwaran Rutnam
The United States said that it will continue its engagement with Sri Lanka despite some recent incidents, including a controversy over a US diplomat who arrived in the country.
US Ambassador to Sri Lanka Alaina B. Teplitz said that the US has a strong relationship with the Sri Lankan Government.

She said that while the US and Sri Lanka may not agree on everything, there are areas where they do agree and would be able to easily collaborate.

The Ambassador said that while the US will continue to express its opinions on certain matters, it will do so with respect and constructively.

The US Ambassador said that misinformation with regards to the US Embassy employee who arrived in Sri Lanka and the Police crackdown on a scheduled demonstration which was to be staged near the US Embassy in Colombo, had not hurt the relationship between Sri Lanka and the US.

Asked if the employee is a US military officer, the US Ambassador said that the officer is a US Embassy employee.

The Ambassador also said that the US Embassy did not ask for the recent protest scheduled to be staged near the US Embassy in Colombo to be banned.

She also echoed concerns on the Presidential Task Force (PTF) on Archaeological Heritage Management in the Eastern Province.

The Ambassador noted that concerns had been raised over the mandate of the Task Force and other matters and she echoes those concerns.

Asked if the US hopes to have an alternative to China's Belt and Road Initiative (BRI) to assist Sri Lanka the Ambassador said that Sri Lanka needs to put forward an economic plan for the future.

"The Government needs to look at its policies and ease of doing business if it is going to attract foreign investment and take advantage of the changes that will come in future," she said.

The Ambassador said that the private sector will be the leading edge in the economy and the US will look to best enable an open and transparent business engagement and fund Small and Medium Enterprises.
While the US and Sri Lanka may not agree on everything, there are areas where they do agree and would be able to easily collaborate