---
Foreign exchange and tourist income depend on foreign countries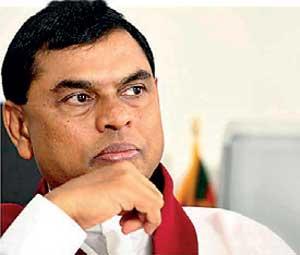 By Lahiru Pothmulla
Sri Lanka has made exports worth US$950 million in June which is a 90% recovery of the exports made in June last year, Presidential Task Force for Economic Revival and Poverty Alleviation Head Basil Rajapaksa said.
Speaking at a news briefing held at Sri Lanka Podujana Peramuna (SLPP) Head Office, Mr. Rajapaksa said this was a huge victory to the country.

"When the economies of strong countries are in disarray, ours is slowly picking up the pace. The US, Brazil, India, Russia and the UK are still struggling with COVID-19. Our exports collapsed to US$250 million in April. However, the US$950 million of exports in June is a 'V' shape regaining of economy," he said.

He said debt repayment was one of the biggest challenges of the government amidst COVID-19 pandemic as the virus has made a grave impact on foreign exchange and tourism.
"Foreign exchange and tourist income depend on foreign countries. When the situation in other countries is dire, it is impossible for us to advance in these two fields. Therefore, we are mainly focusing on exports at the moment," he said.

He said a large number of Sri Lankan expatriates have requested and waiting to return home. "This is another challenge. We will bring down everyone following instructions of health officials and at the same time we have to ensure that the virus does not spread at the community level," Mr. Rajapaksa said.
He said he has confident in the President to put an end to underworld activities and drug trafficking in order to create a corrupt-free country.
Our exports collapsed to US$250 million in April. However, the US$950 million of exports in June is a 'V' shape regaining of economy