---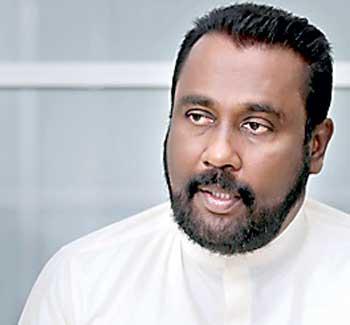 By Yohan Perera
Minister Mangala Samaraweera's statement that Deputy Leader Sajith Premadasa will be the UNP's candidate at the presidential election is a programme which the party is planning to launch in the future, Puttalam District MP Hector Appuharmy said yesterday.
MP Appuharmy was referring to a statement that has been made by Minister Samaraweera that UNP Deputy Leader Sajith Premadasa will be made the party's candidate for the next presidential election with the consent of Party Leader Ranil Wickremesinghe.
"Minister Samaraweera is talking about a programme which UNP is planning to launch in the future," the MP said.
"Minister Samaraweera came out with an interesting statement. First he said a UNPer should be fielded as the presidential candidate, he said it should be a person who is popular and can win the presidential election. Also the Minister said the candidate should have the blessing of party leader Ranil Wickremesinghe. UNP's candidate will be chosen based on these criteria," the MP added.
Referring to a statement made by Minister Ravi Karunanayake that the party's candidate should be a person who had passed at least the GCE Ordinary Level Examination, the MP said Mr. Premadasa holds a degree to his knowledge.

He said questions with regard to the UNP's candidate for the next presidential elections would be resolved in a few weeks time.

Referring to a question raised by the journalists on the arrests of IGP Pujith Jayasundara and Former Defence Secretary Hemasiri Fernando, the MP said his party was always of the opinion that those who are responsible for the Easter Sunday attacks should be dealt with irrespective of the positions they hold.

He also responded to a question about the statement that have been made by State Minister Ranjan Ramanayake that Archbishop Cardinal Malcolm Ranjith should be brought before the Parliament Select Committee which is probing on the Easter Sunday attacks by saying that he does not want to comment about it. However he said, Cardinal Ranjith had made some important statements which prevented an imminent backlash after the April 21 attacks.

The UNP MP countered the opposition's allegations on the Status of Forces Agreement (SOFA) and Acquisition and Cross Services Agreement (ACSA) agreement, stating that the country will not be sold out to any other country through these agreements. He said these agreements have been originally signed by previous governments.
The candidate should have the blessing of party leader Ranil Wickremesinghe. UNP's candidate will be chosen based on these criteria