---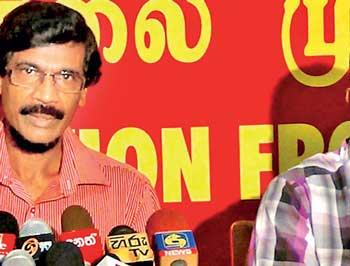 By Ajith Siriwardana
Even though the government has decided to withdraw from the co-sponsorship of the UNHRC resolution 30/1, the Janatha Vimukthi Peramuna (JVP) said yesterday the resolution was still intact and urged the government to reveal how it plans to withdraw the resolution.
JVP General Secretary Tilvin Silva told a news conference that even after the United States withdrew from the UNHRC, the resolution the US co-sponsored with Sri Lanka was intact and similarly, it would be so even after Sri Lanka withdraws from the resolution.

"Withdrawing from the UNHRC resolution will not make it disappear. The government should reveal how it plans to withdraw the resolution," he said.
Mr. Silva said if the government was doing so in protest of the US travel ban on Army Commander Shavendra Silva, the best way to do so was for the Rajapaksas such as Basil Rajapaksa, President Gotabaya Rajapaksa and their families to relinquish their US citizenship.

"The government can cancel the ACSA, SOFA and refrain from signing the MCC compact," he said adding that the government was looking for a slogan for the general election because most of the slogans used during the presidential election campaign were no longer valid," he said.

Mr. Silva said they strongly rejected the recent statement made by Prime Minister Mahinda Rajapaksa that the JVP had not objected to the UNP-led government co-sponsoring resolution 30/1.

"It is an irresponsible and baseless allegation made for political ends. We have revealed our stance and protest on co-sponsoring the resolution at two news conferences held soon after it was done. We protested against it at a public speech made in Colombo on October 13, 2015. We have no connections with the UNP and aligning us with it is baseless. It is the present government that had aligned with the SLFP that was in the then government when the resolution was co-sponsored," he said.