---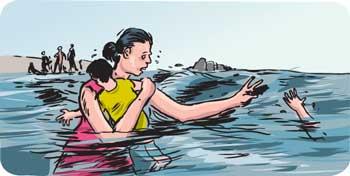 By Srinath Prasanna Jayasuriya and Austin Fernando
A woman, carrying a year-old child in her arms came to grief when she dropped her toddler in a desperate attempt to save her two other children who were dragged out to sea in Chilaw.
The infant who died in this incident was identified as Oushadi Saumya (one year and 2 months). The other two children, Dilini (12) and Isuni, who were dragged away by the sea, had been saved after a struggle by people in the area. They are receiving treatment at the Chilaw hospital, according to Chilaw HQ Police.

Police said the woman along with her three children had been among a group of 16 devotees who had come to worship at the Munneswaram Kovil in Chilaw on Saturday (13) and had visited the beach in Chilaw thereafter. This incident had occurred when they were walking along the beach near the Chilaw Rest House.

When a part of the group started screaming people nearby had jumped into the water to try to rescue the children who were being dragged away by the current. However, after the girls were rescued and taken to hospital they were only able to save the two elder sibilings and the toddler had died on admission to the hospital.

Further investigations are being carried out under the direction of Chilaw HQ Police OIC CI H.P.Y.W. Herath.