---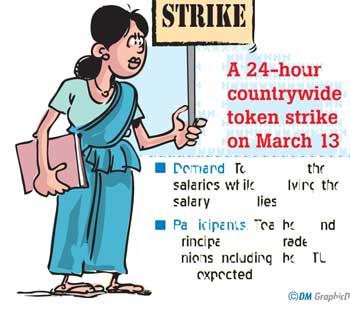 By Chaturanga Samarawickrama
The Teachers' and Principals' Trade Unions have decided to launch a 24-hour countrywide token strike on March 13 demanding to increase their salaries while resolving the salary anomalies, Ceylon Teachers' Union (CTU) General Secretary Joseph Stalin said.
He said the ministry should take steps to remove the salary anomalies in Teachers' and Principals' services since 2017.
Seventeen trade unions including the CTU are expected to join the token strike, Mr Stalin said.
During the strike Teachers' and Principals have decided to report sick on March 13 and the Education Ministry Secretary has been informed about this in writing,
he added.