---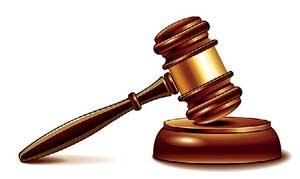 By D.G. Sugathapala
A British tourist who assaulted an Italian who fell in love with the former's Sri Lankan fiancée and took her to a hotel in Unawatuna area was fined Rs.20,000 and sentenced to a six month light imprisonment suspended for five years, by Galle Chief Magistrate Harshana Kekulawala yesterday. He was sentenced for a further one month light imprisonment in default of the fine.
Police told court that the suspect Danniel George Lomas had been in love with a Sri Lankan young woman from Ambalangoda area. However, she had later fallen in love with the complainant Luna Montolli an Italian, and visited a hotel in the Unawatuna area. They were enjoying a drink when the suspect who happened to be in the hotel rushed to the scene and assaulted the complainant.

Habaraduwa police had produced the suspect in court while Attorney at Law Tharanga Mawadawila appeared for him.

*** The suspect Danniel George Lomas had been in love with a Sri Lankan young woman from Ambalangoda area
*** He was sentenced for a further one month light imprisonment in default of the fine