---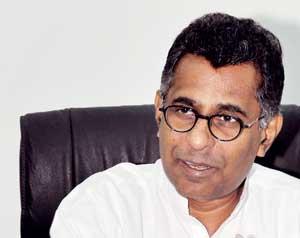 By Yoshitha Perera
Separate indictments will be filed with the Colombo High Court against former Minister Patali Champika Ranawaka and ex-Welikada OIC, ASP Sudath Asmadala over the Rajagiriya accident case, Deputy Solicitor General (DSG) Dileepa Peiris informed Colombo Chief Magistrate's Court.
When the case was taken up before Colombo Additional Magistrate Kanchana Neranjana Silva, DSG Peiris informed Court that the separate indictments would be filed against two suspects over concealing the truth and fabricating evidence.
He informed the Magistrate that it was undoubtedly the former minister who was behind the wheel at the time of the accident and the former OIC of Welikada Police conspired to conceal the fact that Ranawaka was driving the vehicle at the time of the accident.
Accordingly, the DSG requested the additional Magistrate to postpone the case till September 2, until AG's Department completed further process with regard to the matter. Earlier, the Colombo Additional Magistrate yesterday refused to issue an arrest warrant on former Welikada Police OIC, ASP Sudath Asmadala, and granted him bail over allegedly fabricating evidence in the 2016 Rajagiriya accident case.
UNDOUBTEDLY THE FORMER MINISTER WHO WAS BEHIND THE WHEEL AT THE TIME OF THE ACCIDENT
WELIKADA OIC CONSPIRED TO CONCEAL THE FACT THAT RANAWAKA WAS DRIVING THEVEHICLE