---
If we could bring in at least 200,000 to 300,000 golfers, we could generate good foreign revenue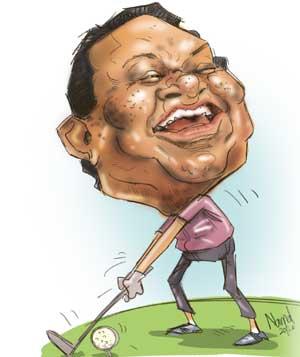 Former MP S.B.Dissanayake said former Sri Lankan cricketing legend Kumar Sangakkara has asked for the Nuwara Eliya Golf Course for 20 years to bring in one million golfers across the world to Sri Lanka annually.
Speaking at a news briefing on Tuesday, the MP said Nuwara Eliya Golf Course is the biggest golf course in the country with 300 acres.

"When I was appointed to the Nuwara Eliya electorate, Sangakkara met me and proposed a project. In that proposal, Sangakkara requests to give him the Golf Course for about 20 years and that he would bring in some one million golf players to Sri Lanka annually. He logically said one million people could be brought in. I also understood this was possible. If we could bring in at least 200,000 to 300,000 golfers, we could generate good foreign revenue,"
he said.