---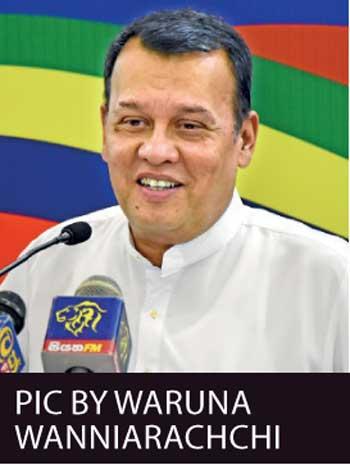 By Sandun A. Jayasekera
Claiming that the Parliamentary Select Committee (PSC) appointed to probe the Easter Sunday terrorist attacks has failed to pinpoint the mastermind behind the heinous crime, SLFP stalwart Mahinda Samarasinghe said Gotabaya Rajapaksa would appoint a commission of inquiry to go to the bottom of it, expose and apprehend all those who planned, funded and carried it out, in the event of him winning the presidential election. .
The former minister said none had been convinced that the PSC conducted an inclusive inquiry or was able to identify those behind the attacks.

He told reporters at the joint SLFP–SLPP news briefing held yesterday at Rajagiriya that there were so many unanswered questions left behind by the PSC.
"The PSC was not independent but partisan in the first place. It did not represent all political parties in Parliament. Although President Maithripala Sirisena, Prime Minister Ranil Wickremesinghe, a number of intelligence officers, police and armed forces personnel appeared before it and gave evidence, there are still many grey areas and unanswered question emanating from its report. Although the country is returning to normalcy at a snail's pace following the April 21 carnage, people are still in fear of similar attacks from extremists at Buddhist temples and Hindu kovils. That is why Sri Lanka needs a leader who can ensure national and personal security," he said.
Responding to , he said the ambush and killing of ISIS leader Abu Bakr al-Baghdadi, who took responsibility for the Easter Sunday attacks in Sri Lanka – was a great relief to all peace-loving people worldwide. The termination of the most wanted terrorist in the world would contribute to promote world peace, he said.
Recounting his cordial interaction with Mr. Rajapaksa as the Defence Secretary and him as the Disaster Management and Human Rights Minister, Mr. Samarasinghe said, "Once, an ambassador wanted to dispatch a stock of 'high energy biscuits' for the use of refugees in the North. These biscuits were usually distributed among soldiers fighting in the Middle East against Taliban. Mr. Rajapaksa did not grant permission to it saying they could get to the hands of the LTTE.

You must not worry about the welfare of our people at this juncture because we have the capability and strength to take care of them," he said.

On another occasion, the government wanted to shift all foreign nationals and NGOs in Kilinochchi amid intense fighting. The government advised them to move back to Vavuniya with all their equipment within a week. There were heavy machinery and equipment with them. That machinery was used by the LTTE to construct sand bunds to delay the forward march of armed forces.

Another time, a delegation from an international NGO complained to Mr. Rajapaksa that patients in a hospital had been injured from air force bombing. But Mr. Rajapaksa's response was that they were LTTE terrorists who used the hospital as their base to attack armed forces.

"This gives a glimpse of what Mr. Rajapaksa did during the civil war to protect our war heroes and usher in peace," he said.

Pic by Waruna Wanniarachchi
The PSC was not independent but partisan in the first place. It did not represent all political parties in Parliament