---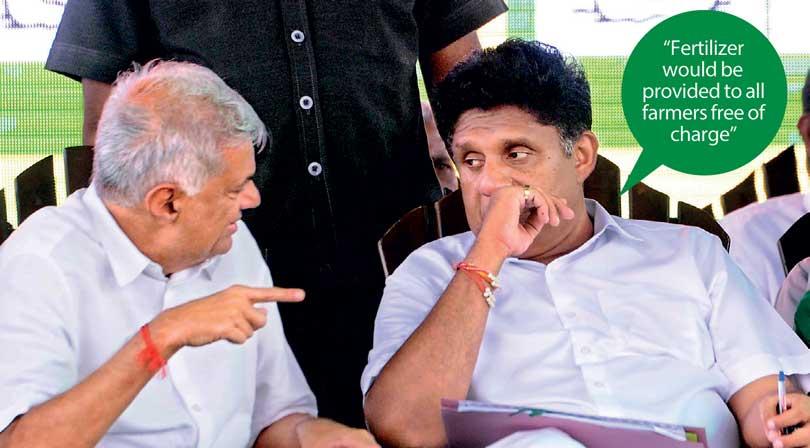 Pic by Pradeep Pathirana
One cannot be a leader if he is a coward
By Yohan Perera and Kanchana Kumara Ariyadasa
The UNF-led alliance's candidate Sajith Premadasa said over the weekend that he was ready to take responsibility on any allegations made against the Sri Lankan Security Forces and suffer any punishment on behalf of them.
Speaking at a rally in Wattegama on Saturday, Mr Premadasa said he was not a coward and was ready to take full responsibility and confront any allegation made against the forces.
"One cannot be a State leader if he is a coward," he said.

Speaking at a rally in Laggala he said he would sign MoUs with the countries where Sri Lankan women expatriates work to secure their rights.

"It is the Sri Lankan expatriate workers working overseas who play a major role in Sri Lanka's economy. Therefore we will sign agreements with countries where Sri Lankan women work so that their rights will be restored and will be able to live in dignity," he said.

Mr Premadasa said he would look after the interests of all farmers as well.

He reiterated that fertilizer would be provided to all farmers free of charge and would launch an industrial programme which would benefit rural folk.

Meanwhile, Mr Premadasa who was speaking at a rally in Rathtota said he would secure a stable price for pepper as well.

"People are waiting to see the end of mansion based politics and see the end of corruption. I will put an end to it. I don't follow VIP politics," he said.

Prime Minister Ranil Wickremesinghe who also spoke at the rally said a future administration led by Mr Premadasa would provide modern agricultural equipment for farmers at concessionary terms.

"Sri Lankans consume rice. If you want to continue eating rice vote for Mr Premadasa," he said.

Mr Wickremesinghe questioned as to whether those in the previous government would give concessions to the people when they have once proved that they are not capable of it.
He said the domestic air travel would begin in Sri Lanka shortly.

"We have internalized the airport in Jaffna a few days ago. Indian planes will arrive in Batticaloa airport as well and domestic air travel will be expanded to Matale as well," he said.