---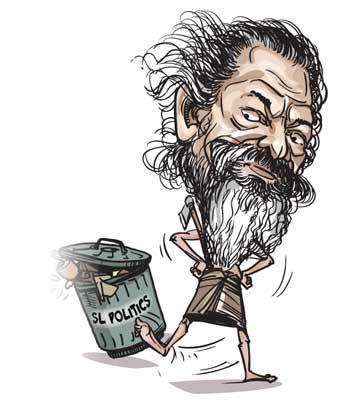 By Ranjith Karunaweera
The Vedda Chieftain Uruwarige Wannilaththo rejected Sri Lankan politics as a nauseating cesspit while stating that he was disgusted to see the behaviour of the rulers of the country who act as pre-school children after the Easter Sunday suicide bomb attacks on innocent men women and children.
Accused the current leaders of the country for passing the buck after the Easter attack
He said although some people who visit him call on him to contest the Presidential election he did not want to fall into this cesspit. "When some people request me to contest the forthcoming Presidential election I sometimes feel like coming forward and showing the country the correct path, but soon I backed down with the thought that I should not get myself destroyed by falling into this mess.
Speaking to the media after a religious event organised to mark his 72nd birthday at the Mawaragala Aranya Senasana in Dambana on Friday, the Vedda Chief lamented that the entire country was now at a complete standstill after eight bombs went off in eight different places in Colombo and Batticaloa on April 21.
He observed that even during the 30-year-long separatist war which was confined to a part of the country, development activities were not stalled and people of many areas did not feel whether there was a war in the country.
Wannilaththo accused the current leaders of the country for passing the buck after the Easter attack and added that it was also disgusting to note the behaviour of the government ministers. He added that entire country got the same feeling.
Leaders should get together for a single purpose without being at each other's throat in the face of the disaster the country is faced, but they are not concerned about the situation. They even do not remember what has happened to the country, the indigenous people's leader claimed. Referring to many incidents where politicians were jeered and chased away by the people, he said that this was the manifestation of the frustration of the people. He attributed the current situation to party politics in which some people ridiculously say that even their blood is green or blue.