---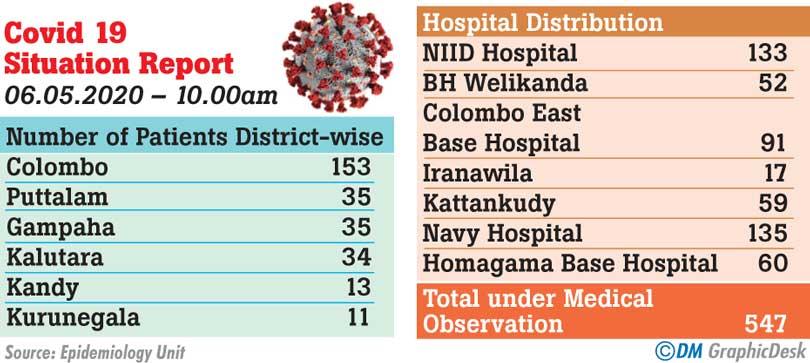 Two persons who tested negative are from Kolonnawa and Rajagiriya and the third a nurse of CNH
testing still done within identified communities
By JAMILA HUsSAIN
The Health Ministry, yesterday said it had increased testing for COVID-19 to 2000 tests per day and contact tracing was ongoing by the military, especially in the identified clusters.
Testing would also begin within identified groups in Modara after a patient was detected on Tuesday and an investigation is underway to find the source of how the patient was infected. Director General of Health Services, Dr. Anil Jasinghe said that three other patients who had been suspected with the virus from Kolonnawa, Rajagiriya and National Hospital on Tuesday had tested negative for the virus in the second round of tests conducted on them last afternoon.

Officials said testing was still done within identified communities only and Sri Lanka did not see the need to begin random testing as yet.

Businesses are set to open even in the high risk districts including Colombo from May 11, and government officials said the target would now be to operate the economy as well as maintain the number of patients at a minimum level so that both the health system and economy could continue to function.

Meanwhile, Colombo has continued to detect the highest number of patients with 153 detected since last evening, the Epidemiology Unit said. Puttalam and Gampaha had recorded 35 cases each while Kalutara with 34, Kandy with 13 and Kurunegala with 11 cases.

The National Infectious Disease Hospital is treating 133 patients, Welikanda Base Hospital with 52 patients, Colombo East Base Hospital houses 91 patients, Iranawila Hospital houses 17 patients, Kattankudi Base Hospital treats 59 patients, Navy Hospital treats 135 patients and Homagama Base Hospital has 60 patients.
Until last evening, there were 547 patients under medical observation in hospitals in several districts, while hundreds of people are being under observation at quarantine centres and under self-quarantine in their residences in the identified areas.
Testing was still done within identified communities only and Sri Lanka did not see the need to begin random testing as yet