---
FR petitions challenging election date and dissolution of Parliament: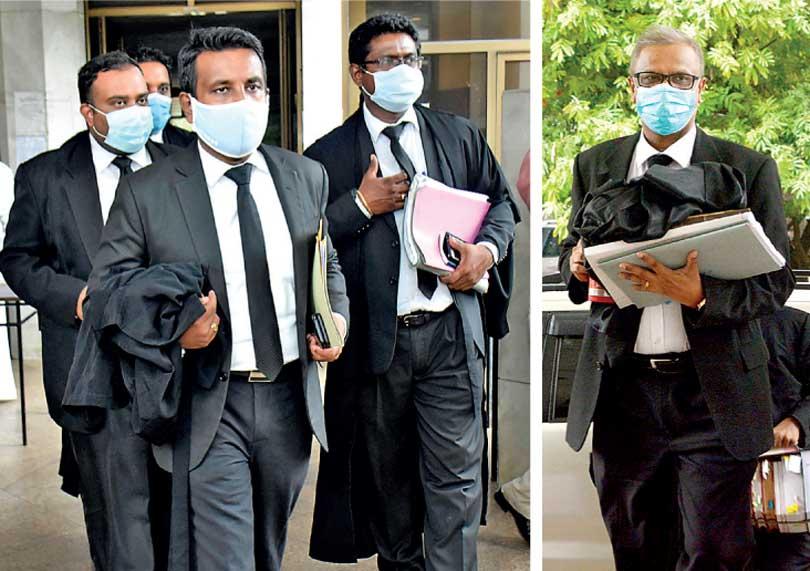 lawyers of both parties in hulftsdorp yesterday
Pic by Nimalsiri Edirisinghe
By Yoshitha Perera
Further consideration of seven Fundamental Rights (FR) petitions filed challenging the General Election date and the dissolution of Parliament was postponed until 10 am today.
The petitions are being considered before the five Judge bench headed by Chief Justice Jayantha Jayasuriya and Justices Buwaneka Aluvihare, Sisira de Abrew, Priyantha Jayawardene and Vijith Malalgoda.

Presenting the submissions before the bench, Counsel Suren Fernando appearing on behalf of the Samagi Jana Balavegaya (SJB) refering to article 150 of the Constitution said that no sum can be withdrawn from the consolidated fund except under the authority of a warrant by the Finance Minister.

He emphasised that it was necessary to have a vote on account at this situation before using funds from the consolidated fund and by not having a vote on account, the present government had violated the Constitution. He also said that the country required an operative Parliament to guarantee democracy.

"It is the duty of the President and the Cabinet Ministers to attend the sessions of the Parliament at least once in three months. However in this instance the Parliament stands dissolved for more than three months. This situation is in violation of the Constitution" Counsel Fernando said.

Counsel Viran Corea appearing for the Centre for Policy Alternatives (CPA) pointed out that since Parliament was not summoned on the May 14 as per the Gazette, the proclamation issued by the President on March 2 to dissolve the Parliament has become invalid at this moment.

He further argued that mandatory provisions have been provided in the Constitution to fix a date for the General Election and to convene the new Parliament not later than three months from the dissolution of Parliament.
Highlighting the danger of having the election when Covid-19 pandemic is spreading across the country, Ikram Mohammed PC informed the bench that it was practically impossible to have a free and fair election in the prevailing situation. He added that it was a violation of people's right to vote freely.
The petitions are being considered before the five Judge bench headed by Chief Justice Jayantha Jayasuriya