---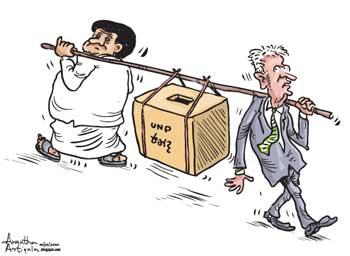 By JAMILA HUSAIN
If the rift between the faction led by UNP Leader Ranil Wickremesinghe and the one led by Deputy Leader Sajith Premadasa is not settled by the date of nominations, the Ranil faction is to explore the possibility of contesting the general election separately under the elephant symbol, a senior UNPer told Daily Mirror yesterday.
However, senior party members have advised both Mr. Wickremesinghe and Mr. Premadasa to settle the contentious issues and contest as a united front under the elephant symbol because a split would affect their performance at the polls and break up the party as well.

The Ranil faction has been meeting on a daily basis and with nominations just a few weeks away, a contingency plan must be in place if the rift is not settled between the two factions.
"A settlement with both parties coming together is well and good, but if not then an alternative arrangement has to be made," the senior official said. "In a worst case scenario, if a settlement cannot be reached, then the Ranil faction is likely to contest the polls separately."

He said at a meeting held with UNP organisers, they had unanimously decided that the party should contest under the elephant symbol. Organisers have also urged the party to unite.
Meanwhile, the UNP has decided to go to the nominations board to finalise their list of contestants and their electorates so as to submit their papers between March 12 and March 19.