---
Sri Lanka should also follow the same policy like in the UK
Members appointed by the religious leaders not by President or the PM
Aims to resolve various issues among religious groups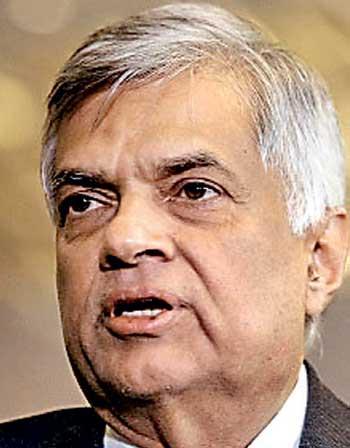 By Yohan Perera
A religious Reconciliation Board comprising the members nominated by the religious leaders would be set up to resolve various issues among religious groups in the country, Prime Minister Ranil Wickremesinghe said over the weekend.
Prime Minister Wickremesinghe revealed this at a ceremony held in Galle for the distribution of Samurdhi relief in Baddegama on Saturday.
"The members of this board will be appointed by the religious leaders and not by President or the Prime Minister," Mr Wickremesinghe said.
He said the legislation would be brought into the set up the Religious Reconciliation Board after a dialogue with all religious leaders including the Maha Sangha. The Prime Minister said he had already discussed the matter with the Mahanayake Theras.
"We will discuss the matter with the Mahanayakes further. We intend to have a dialogue with other religious leaders as well. Legislation to set up the board will be brought in after these discussions," he said.
"It is essential to resolve the issues that had come up after the Easter Sunday bombs. Therefore it is essential to handover the tasks of resolving these issues to religious leaders," he added.
The Prime Minister suggested that Sri Lanka should look at the way the UK dealt with religions. "Priority is given to the Church of England in the UK. However, freedom is given to all religions in that country. There are Buddhist, Hindu and even Sikh religious places in that country. Sri Lanka should also follow the same policy," he also said. "The Easter Sunday bombs affected the economy. Tourism sector came down as a result of the attacks. Many countries issued travel warnings.
"However, we were able to crack down all members of the terror groups who carried out the bomb attacks within a month. Countries such as China and India had already lifted the travel warnings. We are confident that other countries will also lift travel warnings before long.
"All ethnic and religious groups including the Muslims came together after the bomb attacks. However, the Muslims seemed to have distanced themselves from the Sinhalese later. One must remember that we as Sinhalese do not want to experience problems from the Muslims when they visit the East or experience problems at the hands of Tamils when they visit the North.
"Likewise Muslims also does not want to experience trouble from the Sinhalese," he said.
Easter Sunday bombs affected the economy. Tourism sector came down as a result of the attacks. ....
It is essential to handover the tasks of resolving these issues to religious leaders
Legislation would be brought into the set up the Religious Reconciliation Board after a dialogue with all religious leaders