---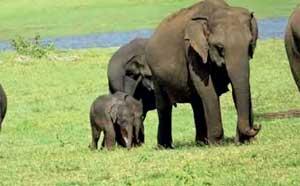 By Sheain Fernandopulle
An elephant has given birth to twin calves at the Minneriya National Park, Director Wildlife Health at Department of Wildlife Conservation Dr. Tharaka Prasad said.
He told the Daily Mirror that it was the first time in Sri Lanka's recorded history that twin elephant calves had been witnessed. The calves are three to four weeks old, according to officials.

"This is a rare and special occasion. Hence, we are taking all the measures to protect these twin calves and their mother," Dr. Prasad said.

"This observation has been made by one of Sri Lanka's acclaimed researchers on Elephants and a former Director General of the Department of Wildlife Conservation Dr. Sumith Pilapitiya, along with officers of the Minneriya National Park," he added.

The Wildlife Department requested tourists not to make any special effort to capture or film these elephant calves in a way that would disturb their habitat.

In an earlier occasion, a similar observation was made at the Elephant Transit Home in Uda Walawe. However, there was no conclusive evidence to prove that the calves were twins.
It was the first time in Sri Lanka's recorded history that twin elephant calves had been witnessed