---
It was the UNP who gave citizenship to estate Tamils who were without citizenship after 1977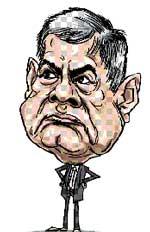 By Yohan Perera and Shelton Hettiarachchi
All UNP members of the Pradeshiya Sabhas should decide whether to remain with the party or not before action is taken against those who join Samagi Jana Balawegaya (SJB), UNP Leader and former Prime Minister Ranil Wickremesinghe said yesterday.
Mr. Wickremesinghe came out with this remark at an election rally in Nuwara Eliya over the weekend whilst referring to the recent Appeal Court decision to dismiss the petition filed by the SJB against the suspension of their party membership.
"The Appeal Court had held that SJB has misled Courts by suppressing information. SJB is not the alliance for which the UNP working committee gave its approval for. It is clear that SJB is a separate political party. It had fielded candidates at this year's general election as a rival party of UNP. SJB has misled the Court and had suppressed information," Mr. Wickremesinghe said reading out the Appeal Court decision at the meeting.
"Therefore, what can we do about those who have formed SJB? We will have to take disciplinary action against them. Our candidates should distribute copies of this judgement among the voters. I would like to tell the Pradeshiya Sabha members, in particular, to come and join us now before disciplinary action is taken against them," he added.

"No one can change this decision made by courts. It was the decision of District Courts, and the Appeal Court. One cannot change this judgment even if he or she goes to the International Courts and near Sakraya," he also said.
Also, Mr. Wickremesinghe said UNP has more right to ask for the votes from the Estate Tamils than any estate Tamil politicians as it had done more to the estate sector Tamils. "It was the UNP who gave citizenship to estate Tamils who were without citizenship after 1977. It was I as the Minister of Education opened estate schools and provided buildings and teachers.