---
It will help show that real abductions did not take place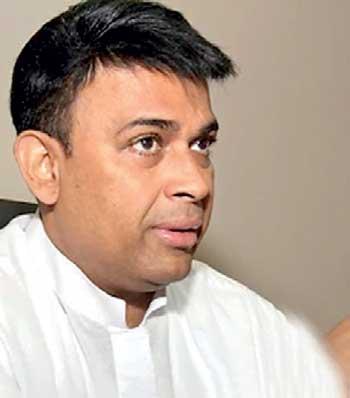 By Yohan Perera
Former Minister Rajitha Senaratne created an unnecessary blunder by organising a media conference with few men who were wearing false beards, former MP Ranjan Ramanayake said yesterday.
Mr Ramanayake said this at a media conference where he came out with a number of controversial remarks on various issues. " Dr Senaratne did something unnecessary by getting few men with false beards to hold a press conference. He should not have done it as the incident will be used to show that real abductions that took place using white vans was false" Mr Ramanayake said.

Mr Ramanayake defended former Minister Mangala Samaraweera who had said that there are' sangha cults' which go after money. "Mr Samaraweera was right in saying so. I myself have given money to such a monk who wanted money for a trip to France. I have recorded this transmission on CCTV. However Mr Samaraweera did not mean that all monks belonged to these cults" he said.

Responding to more questions raised by journalists as to how would the previous government fare if the COVID-19 pandemic happened during their reign, he said former President Maithripala Sirisena would have done a better job as he was a better heath minister rather than the present minister Pavithra Wanniarachchi.
He also said former Prime Minister Ranil Wickremesinghe comes out with intelligent statements these days. He commented on the recent statement of former Leader of Opposition Sajith Premadasa who recommended drugs for COVID-19. " President Donald Trump also recommended the same drugs which Mr Premadasa recommended" Mr Ramanayake said.
Incident will be used to show that real abductions did not take place
Dr Senaratne did something unnecessary by getting few men with false beards to hold a press conference
Mr Ramanayake defended former Minister Mangala Samaraweera who had said that there are' sangha cults' which go after money
Former President Maithripala Sirisena would have done a better job as he was a better heath minister rather than the present minister