---
Court told that two PCs were asked not to record the evidence of two eyewitnesses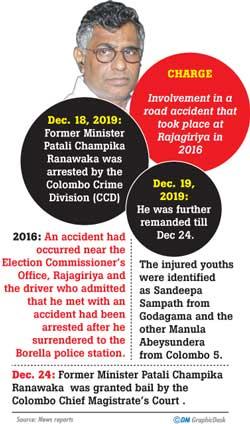 By Yoshitha Perera
The order on whether to issue a warrant for the arrest of the former OIC of the Welikada Police and ASP Sudath Asmadala will be delivered today by Colombo Chief Magistrate's Court.
When the case was taken up before Colombo Additional Magistrate Kanchana Neranjani de Silva, Colombo Crimes Division (CCD) requested the Magistrate to issue a warrant for the arrest of former Welikada OIC for fabricating evidence in the case filed against former minister Patali Champika Ranawaka on charges of causing an accident.

Deputy Solicitor General (DSG) Dileepa Peiris appearing on behalf of the Attorney General informed Court that the former OIC had instructed two police constables not to record the evidence of two eyewitnesses that it was Mr. Ranawaka who was behind the wheel at the time of the accident.

He informed the Magistrate that by fabricating the evidence the former OIC had committed offences under Section 101, 113, 190, 198 and 215 of the Penal Code.

"In 2016 and 2017 the Police had filed 16 reports in Court but none of the reports had mentioned the eyewitnesses statements," DSG Peiris said. He said the AG had instructed the CCD Director to obtain a warrant for the arrest former OIC on charges of fabricating evidence.